Mask mandates, necessary or overstepping?
Florida is once again leading the way for controversy in regards to COVID-19, this time with Gov. Desantis' push for a mask mandate ban. This is just another example as to why Florida is a different breed of stupid, or freedom-loving patriots, depending on how you look at it.
The experience with COVID
For over a year and a half now, the world has been turned upside down. With high death tolls, tensions from both sides of the aisle and economic pressure on nearly everyone, it is reasonable to say that everyone is over the pandemic. Unfortunately, it is not that easy. 
Even at UWF, the direct impacts of the pandemic are immense. The loss of Peyton Goodman, a 2021 communications graduate, was a hard blow to the university. Additionally, grades have been impacted as students continue to endure virtual learning, and the mental well-being of students has also been impacted. Students and their families are still contracting COVID, running the risk of losing their lives. 
What does all this mean this school year? 
In the 2020-2021 school year, the majority of public school districts and universities required masks for all in-person learning. This was an effective way to give everyone the choice of wearing a mask or staying home and learning remotely. Th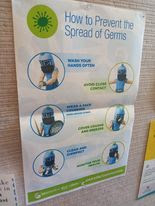 e choice depended greatly on what students wanted to do and the safety measurements they needed to take for themselves or their families. But with online and remote options becoming less prevalent this school year, mask mandates have been fresh on the minds of everyone.
Even though we are nearly finished with this semester, there is still a battle some schools are facing to decide whether or not to stand their ground on the issue of mask mandates. With each district having a different mask requirement for students, Gov. Desantis decided earlier this semester to intervene and put forth efforts to ban the mandate as a way to give the individual the right to choose what they want. This is not saying that masks are banned, but the requirement of wearing one is.
This is not an issue that directly impacts our university, since there is not an official mask mandate on campus, but it is still incredibly important to the community. With 85 percent of UWF students being in-state residents, there is a high likelihood they could impact friends and family who also live in the state, especially if a family member or friend is immunocompromised.
COVID and UWF, diverse school with diverse opinions
At UWF, students have the choice of whether or not they'd like to wear a mask. Although the mandates are not applied to UWF, the wearing of a face mask is still highly encouraged. Nearly every entrance door on campus has a sign encouraging the use of a face covering. Signs of Argie the Argonaut with his own (presumably very large) mask are also displayed around campus, encouraging all Argos to do the same for the safety of themselves and others. Students are also able to social distance in most classrooms, even though the requirement to do so from last semester no longer stands.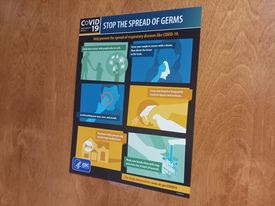 Each preventative measure that people have been asked to take has seen mixed opinions every step of the way. It was seen with social distancing, mask mandates and especially with the vaccine. These diversities in opinions are seen right here at UWF. 
Some students and faculty believe that these safety measures are essential for the safety and well-being of themselves and those around them, while others believe that it is an infringement of personal autonomy and a person's right to individuality. Good examples of this diversity in ideas can be seen when asking multiple individuals the same question regarding their opinion on mask mandate bans.
"If the mandates are put in place to protect the common good of the community, then such a mandate is valid and necessary," Will Kennedy, a Communications professor said. "Schools should be able to require masks if they choose to. Having the state, through the governor, deny the ability to do so is one of the reasons Florida is setting the bar when it comes to struggling with this current wave of COVID."
"There is a term for what the governor is doing," he added. "That term is executive overreach."
In response to the same question, Destiny Bukowski, an elementary education major, agreed with Kennedy.
"It should absolutely be required, especially if an individual is unvaccinated," Bukowski said. "COVID is killing the unvaccinated, and passing it on to those who are vaccinated because people do not want to wear masks."
Others on UWF's campus do not agree with this view. 
"The mandate should stop," Kenzie Cueno, a legal studies major said. "Let people decide how they want to live their lives. Whether it's in fear or not, the government should [not] have a say in our 'health'. What's the point of a vaccine if masks are still mandated?"
Do you agree with mask mandates?
Sorry, there was an error loading this poll.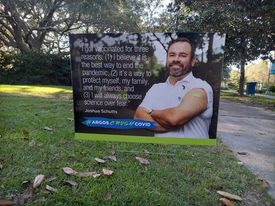 What now?
UWF, along with every other school in the Florida university system, have and will continue to follow CDC guidance on how to run the university through the pandemic. With that being said, there is a likelihood people will be unhappy with whatever decision the school decides to make concerning masks. Regardless of how you feel about mask mandates, most Argos can agree on one thing: we need a spring break this year.