Argopalooza offers chances for students to get involved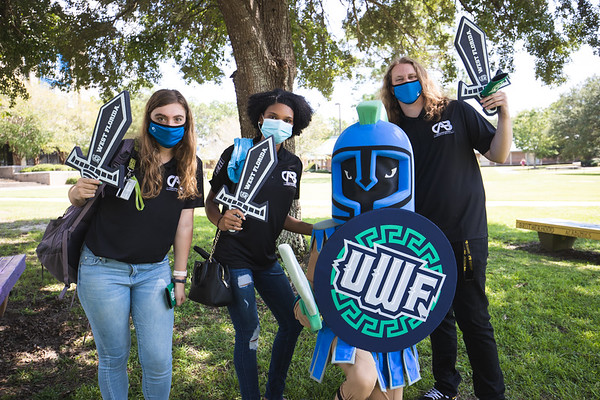 In the midst of a pandemic, students at the University of West Florida were still eager to gather, albeit virtually, with the intent to get involved on campus.
On Thursday night the annual Argopalooza Involvement Fair took place. The event is a chance for clubs and organizations on campus to congregate, voice their causes, and recruit potential members. This year's fest had an atmosphere in stark contrast to that of its characteristically social tone. Covid-19 forced the entire operation to be held online, creating the all too familiar feeling of distance that has plagued much of the past year. 
A persisting thought for many has been one of uncertainty. Is there a way for students to safely participate on campus during the era of Covid-19? The answer is short and reassuring; an emphatic yes.
Though done remotely, Argopalooza still had much to offer those looking to get involved. There were groups present to fit any student's own personal interests; a gaming club, faith-based organizations, and Greek life just to name a few. Those present, both representatives and general attendees, were optimistic and engaged throughout the entire affair.
A housing representative on campus spoke about how although the virus presents obstacles, it by no means excludes the opportunity to get involved. 
"All of our representatives are still doing a super good job of curating a sense of community on campus", she said.
There were many students listening to her explanation of what being a housing representative entailed, many of whom were eager to become one as well. The number of representatives has been reduced due to fewer people living on campus since the outbreak of the virus. This does not mean that less time and effort is going into offering campus activities for students.   
The student run organization CAB (Campus Activity Board) has been a driving force in offering students fun and safe activities over the past two semesters. 
"Following CDC guidelines and keeping everyone safe is a priority for us," said Roddrea, a CAB member. 
Last fall, CAB offered a multitude of events for students including a masked singing competition, painting classes, and a virtual escape room. They have a booked schedule for this Spring semester as well.
Jessica, another CAB member, spoke on how they have seen more involvement with recent events. 
"We had 30 people at our last gameshow night", she said. "It was a lot of fun".
CAB is in search of volunteers, 'cabbies' as they are called, to help with any upcoming events. Some include mask tie dying, a Valentine's Day Zumba class, and a virtual murder mystery. Any students interested in CAB events or joining can find more information on the UWF home website. 
Although Argopalooza felt different this year, it still showcased student's eagerness to get safely involved on campus. After all, Argos are what make the student run organizations special, not whether they take place virtually or in person.
Make sure to wear a mask and socially distance at any upcoming events held in person. For more information concerning clubs and organizations at the University of West Florida, please visit the following link.
https://uwf.edu/academic-engagement-and-student-affairs/departments/student-involvement/