Free swag to grab around campus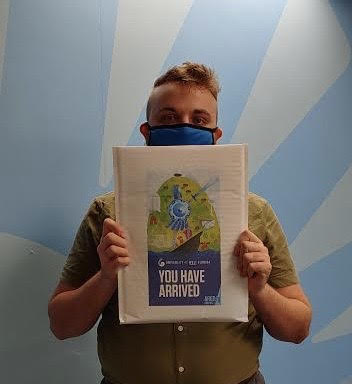 Before COVID-19, free food, promotional items, and other goodies could be found in abundance. Things may be a little different around campus, but that doesn't mean students can't get University of West Florida swag for free.
Students can pick up free promotional items from various places on campus including, but not limited to the Student Involvement office, the Student Government Association office both of which are located upstairs in the Commons, the HLS facilities, and the Visitors Center.
The University is providing at least two masks to all current students. If students haven't already received theirs, they can pick them up from the Visitors Center.
The Argo Arrival team mailed out over 600 Welcome Kits for the first time in college, GRIT, and new transfer students, and those that did not receive a Welcome Kit in the mail can drop by the Student Involvement office to pick one up. The kits include a custom 2020 Argo Arrival t-shirt, a note from President Saunders welcoming students to the university, an argonaut sticker, the new student convocation medallion, instructions for participating virtually in the medallion ceremony, and other swag.
The Argo Arrival team also has shirts for students who are returning for another semester, and signs that these students can place around campus letting everyone know what their favorite place to go is.
"I think the best promotional items are both reminders of a resource or an opportunity on campus," Dr. Benjamin Stubbs, Executive Director, Student Involvement and University Commons, said. "They remind you of an upcoming event, or they make you think about a past event, or they remind you to follow a certain social media account, or they remind you to consider an opportunity you could sign up for." 
Stubbs added, "I think the best ones are also functional". Then he described his impressive collection of promotional items that he had in college.
"This year for student involvement we have umbrellas and pizza cutters. Those are two very functional things that hopefully will come in handy, that you'll reuse, and you'll associate that usefulness with our programs," remarked Stubbs.
The umbrellas and pizza cutters that Stubbs mentioned can be found at the commons service desk throughout the semester, or for as long as supplies are available. Items may also be given away at the Market entrance kiosk.
The Student Government Association is giving out Swag Bags to all currently enrolled students. The SGA Swag Bags include a cotton sheeting natural economy tote, reusable cotton face mask, color changing tumbler with straw, and 2-ounce hand sanitizers. They are also giving away reusable straws to meet the Eco Effect platform. Any UWF student may receive one of the bags by coming to the SGA office, on Monday through Friday, starting at 11 A.M. until 2 P.M. The members of SGA ask that students wear a face mask, and sign in upon entering the office. Students can grab a bag for themselves rather than have a member of SGA hand them out in order to reduce contamination between people. 
"As SGA we want to hold the student body accountable by giving them enough resources such as masks which are a little stylish and hand sanitizer and reusable cups so that we can save the earth," said Ruben Gardner Jr., Vice President of the Student Government Association.
Other areas of campus make students work a little to earn their promotional items.
The Campus Activity Board will be giving out prizes and merch at most of their events. Students can expect to have the opportunity to receive prizes ranging in value at the following events: X-marks the spot Sept. 1, Trivia night Sept.10, You got Dance Sept. 17, The masked singer Oct. 15, Bingo Nov. 9-13, and Winter Wonderland Nov. 16.
UWF Recreation has three fitness incentives programs: Argo Fit, Cardio Crusade, and Argo Weight Club which run from Aug. 24 – Nov. 8 of this year. The programs allow for students at all levels to get rewarded for achieving their fitness and health goals. To read about the specifics of these incentives visit the UWF Recreation website, click on fitness, and then click on incentive programs.
Although things have changed, free promotional items and Argonaut swag are still in abundance. These items might appear to be more difficult to acquire, but the process is as simple and safe as ever.