Social distancing guidelines create new boundaries for students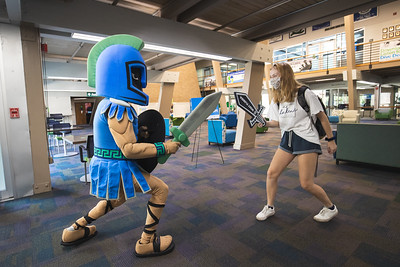 With the COVID-19 pandemic, social distancing guidelines are being encouraged on campus to keep students and faculty safe. 
To practice social distancing, stay at least 6 feet away from others and avoiding large groups or crowded areas. Students are encouraged to wash their hands frequently with soap and water for at least 20 seconds, especially after eating, coughing, or sneezing. These social distancing tips and more information can be found on the Returning to School FAQ page on uwf.edu.
Students must wear a mask on campus inside all buildings and outside if social distancing isn't possible. 
Masks are not required in private areas, such as individual study rooms or your dorm. Students participating in UWF sponsored events off campus must wear a mask as if they were on campus. 
Persons that have a medical condition that cannot wear a mask will need to contact the Student Accessibility Resources center.  
Students are required to fill out a COVID-19 pre-screening questionnaire each day that they come to campus. The questionnaire may be found by searching "pre-screening" on MyUWF.
In-person events are still not permitted on campus. However, there will be many virtual events and social distancing friendly things to do this semester. Below is a list of social distancing friendly things to check out this semester:
UWF Trails 

Rent a kayak or canoe at the Sports center 

Gym – rock climbing wall

Rent paddleboards at Bayview Park

Picnic on the Cannon Greens

Bike around Fort Pickens

Visit the National Seashore

Axe-throwing (student discount)

Take a book to the beach
Virtual:
Meditation every Tuesday 12:15 p.m. to 12:45 p.m.

Zumba every Wednesday 7:00 p.m. – 8:00 p.m.

Check out a virtual play at UWF Theater or Pensacola Little Theater
With COVID-19 and social distancing, campus life is evolving. For more resources on COVID-19 guidelines and events this semester, visit uwf.edu.