Keeping your four-legged friends safe: Shelters encourage pet owners to get pets microchipped
Microchipping pets has become increasingly popular in recent years, as these chips increase the likelihood of owners being reunited with their lost pets.
"A microchip contains a unique ID number, specific to your pet. It is about the size of a grain of rice and is implanted underneath the skin between your dog or cat's shoulder blades. Implantation is quick and virtually painless, like a normal pet vaccine," according to AKC Reunite.
Many shelters ensure that animals adopted are microchipped before going to their forever homes, which means that the pets can be returned to their owners if they are lost.
It is important to note that a microchip is not a GPS, and can only be read with a microchip scanner, which shows the microchip ID number, as well as which veterinarians, shelters and animal control one can use to contact the owners.
Locally this week, Santa Rosa County Animal Services held a reduced-cost microchip clinic, allowing pet owners to bring their cat or dog and get them microchipped for just $10.
"I really appreciate this event so much," said Yolanda Taylor, a resident who brought her pet in to get microchipped. "I just called where we take her [vet] and asked how much a chip was, and they said $79."
These reduced-cost microchips help not only increase the likelihood of people's animals being returned to them but also provide an affordable service that pet owners may not be able to afford otherwise.
Having pets microchipped is important to shelters, who want to keep animals out of their kennels and reunite them with their owners, Tammy Correll, a surgical coordinator at Santa Rosa County Animal Services, said.
 The event, held on Wednesday, had a successful turnout, with 177 animals getting microchipped at Santa Rosa County Animal Services, compared to the previous year, which saw 98 pets get microchipped.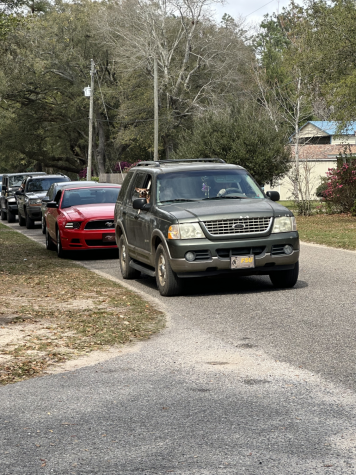 The community benefits from these events and shows appreciation to the staff at animal services for the part they play in helping all the animals in their community, Animal Services Chief Randy Lambert said.
Members of the community expressed their gratitude for the event on social media, sharing how this event not only benefits animals but also shows appreciation for the staff and volunteers' efficiency.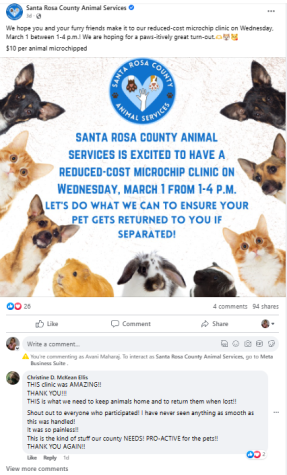 "First of all, as the owner, it establishes ownership of the animal," said Lambert. "If we find the animal or somebody finds the animal, brings it to us, and we scan it, it's going to say it's yours."
Pet owners see their animals as members of their family and want to make sure that if their pets get lost, they can be found, which microchipping improves the chances of.
"We actually went out of state to get him [dog], so having him microchipped is very important because, one, he's a very rare breed, pretty expensive, and he's our baby," said Jamie Evanks, who brought her dog in to get microchipped.
Santa Rosa County Animal Services hopes to hold more events like the reduced-cost microchip clinic in the future and for more members of the community to bring their pets to get microchipped.
According to American Humane, approximately 10 million pets are lost in the United States each year, and only 15% of dogs and 2of cats% in shelters without ID tags or microchips are reunited with their owners.
Without proper identification, reuniting lost pets with their owners becomes unlikely, and it is difficult to prove ownership without some form of ID or microchip, which makes microchipping pets important.
Santa Rosa County Animal Services is not the only shelter encouraging residents to get their pets microchipped; rescues across the country host microchip clinics.
Recently, the Orange County Animal Services made headlines after reuniting a dog with her family after she had been missing for more than 7 years. The dog, Jazzy, who went missing from Texas, was found in a hotel room in Central Florida, and the shelter was able to track down her family due to her microchip.
According to AKC Reunite, "Pets with microchips are up to 20 times more likely to be reunited with their owners."
Shelters nationwide are urging people to get their pets microchipped to ensure there is a permanent level of protection which can make the difference in whether you are reunited with your pet.