Make 850 Great Again: Keep Gaetz Out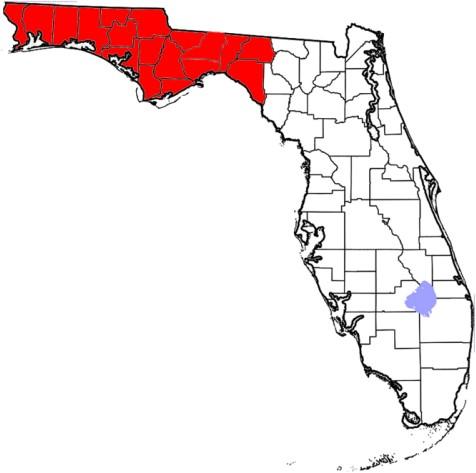 OPINION — There have been numerous alarming allegations against Congressman Matt Gaetz, who is currently serving as the 118th member of the House of Representatives. He served as Florida's 1st congressional district in the House of Representatives since 2010, and was re-elected back to back since 2017. A Republican and right-wing ally, Gaetz is also a staunch supporter of former president Donald Trump.
Gaetz was born in Hollywood, Florida, but was raised in the Panhandle. Growing up, he resided with his father and mother in Fort Walton Beach, Florida. He graduated from Niceville High School, then attended William and Mary Law School. After graduating with a Juris Doctorate degree in 2007, Gaetz passed the Florida Bar exam and became a practicing lawyer before going into politics. After entering the political scene in 2010, Gaetz became the Representative for the Panhandle districts, including Santa Rosa, Okaloosa, Escambia and parts of Walton county.

What should have turned out to be a hometown full of pride and recognition, quickly turned into a dark cloud of dismay when Gaetz was accused of sexual misconduct and allegations of participating in a sex-trafficking scheme(s).
Aside from being kicked out of the Bar for unpaid lawyer fees, Gaetz has been under fire for various allegations including sexual misconduct and inappropriate advances against women. Personal research and interviews conducted also accuse Gaetz of uncomfortable behavior.
A Pensacola native who wishes to remain anonymous recalls an incident where she and a group of friends were approached by Gaetz himself at a local restaurant. She recalls the incident being very uncomfortable as Gaetz approached the group with uncomfortable advances as they were in their teens.
Apart from having numerous of inappropriate conduct reported against Gaetz, he is an advocate against same-sex marriage as well as same-sex adoption. So much so, he voted both against the Equality Act and then the Respect for Marriage Act in 2022. Gaetz is also a member of the NRA, and promotes gun-advocacy instead of gun control.
Differing political opinions is not the issue here. It is completely possible to be a good human and be either Democrat or Republican. But in 2023, there is no room for outdated practices and beliefs that don't just benefit a certain group of people. Gaetz represents everything anti-progressive. While there is no denying the amount of supporters he does have, especially in the 850 area, it is just as important to recognize the actual illegal activities of a Politician that should be a positive representation of the area. Arrested for a DUI, unpaid fees to get him kicked out of a practice, and under investigation for illegal sex trafficking go beyond personal opinion. No politician, whether left or right winged, should have any place as Representative. The Panhandle needs to take pride in the beautiful area we live in, and elect someone who upholds the laws and beliefs important to its citizens.
Despite being re-elected this past November despite allegations, this could easily still be the last term he serves in politics. It is clear Gaetz has no intention of stepping down anytime soon.
Gaetz even teased at the possibility of running with former president Trump in 2024, whether its an actual possibility or not.
850 citizens, especially the young generation, should do their research and go out and vote next time an election arises. Gaetz does not represent inclusivity for all, and outdated practices could lead to severe consequences. Representation is important, and the 850 is no exception.
For more information, visit https://www.vote.org/, https://vote.gov/, & https://www.congress.gov/member/matt-gaetz/G000578.