UWF Student Ambassadors thrilled to welcome new recruits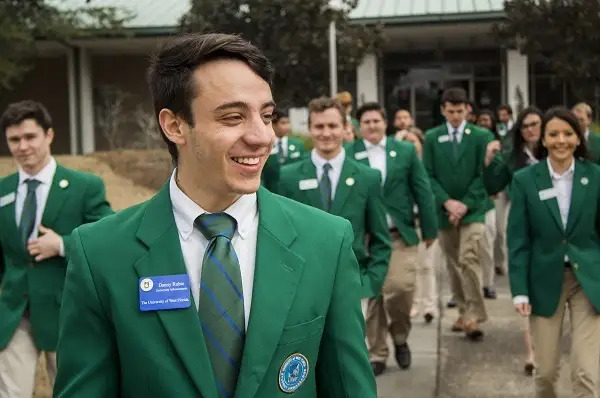 The University of West Florida Student Ambassadors concluded Spring 2023 recruitment. 
This process included four ambassador recruitment events from Jan. 17 to Jan. 20.
Ambassadors provided a meet-and-greet style event titled "Green Tie Social" as an informal social meeting with the current members to learn more about the program. 
Student Ambassador Anaijah Harris describes the Green Tie Social as the best way to become acquainted with the applicants.
"Green Tie Social was definitely the most effective way to get to know the applicants," Harris said. "It informed the applicants and gave them an opportunity to meet the ambassadors. It also gave applicants a chance to interact with other people so we could see their personalities up front."
In addition, the Student Ambassadors tabled at the UWF Student Involvement Fair. They encouraged applicants and all students to stop by their table to learn more about the program. 
Games on the Green, the third event, entailed games, drinks and snacks to bond with applicants on a more informal level. 
The final event was Meet the Applicants. This was a group interview by current Student Ambassadors. 
These events aided current ambassadors in finding driven students that fit the role of official hosts and hostesses of UWF in their unique ways. 
Lead ambassador Mia Montenaro spoke on the effectiveness of the recruitment process. 
"I think the ambassador recruitment process introduces the program while also taking a further look into every one to bring out their own personal skills," Montenaro said. "We can then dive deeper and see how these skills fit into the program."
The standards of an ambassador date back to their founding in 1987 by Martha Lee Blodgett. The current ambassadors are appointed by UWF President Martha Lee Saunders to help with UWF events.
These formal responsibilities include dinners with donors, ceremonies, school events and tours for alumni. 
This means that each "green jacket" must have personable skills, confidence and knowledge to demonstrate the spirit of UWF. 
The Student Ambassadors program brings many opportunities to accepted students and provides incomparable student life experiences.
Ambassador Diana Bernau expressed her pride in the program and her thanks for the opportunities provided to her.
"The ambassadors program has given me so many opportunities to serve my university and grow in more ways than I knew possible," Bernau said.
Bernau had the opportunity to help with spring and fall UWF graduations, give tours of the beautiful campus and host the Board of Governors. 
"In addition to teaching me more about the University of West Florida," Bernau said. "I have had the opportunity to make some of the best friends because of this program. I have loved the opportunity to be a part of this amazing program here at UWF."
The ambassadors are excited about this new semester and eager to continue their legacy with this new team of devoted students.