Housing costs climb in Pensacola despite reduced demand
Increasing housing costs can be found in regions across the US. However, Florida made headlines this past year as the nation's least affordable state. Remote work trends, a wave of new retirees and a 2020 exodus into the state has brought millions of new residents, according to Redfin, one of the nation's leading realty companies.
The growing housing costs have been attributed to several issues such as increasing timber prices, decreased housing construction and supply chain constraints. The leading cause for the growing costs has been demand. In 2023, however, demand has slowed as major realtors brace for the incoming threat of recession. So why haven't prices gone down?
In Pensacola, the median asking price for a one bedroom apartment has grown to $1,325, still 5% higher than the previous year, according to Redfin. This means the median Escambia County renter making $34,000 is spending half their income on rent in a time of record-high inflation. In a city where 18% of the population lives under the U.S. federal poverty line, or $27,740 for a family of four, residents can't pay for one bedroom.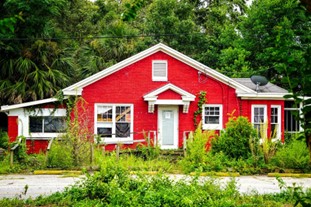 While the city has recently backed several affordable housing initiatives, the influx of people from outside the region is outpacing home building in the area. According to Redfin, the top five places people are moving to the area from are Washington D.C., Atlanta, Orlando, Los Angeles and Chicago.
Florida as a whole has seen a 17.7% increase in home value over the past year according to the most recent census data, quickly overtaking every other state in the nation. While also being the fastest growing state, insurance companies are also leaving in droves due to climate-related disasters and inflating home prices. The 2020 census also projected a 3.9% population increase across Northwest Florida in the coming years. While competing interests from developers, the tourism industry, conservationists and locals opposing new housing development fight it out for land in the region, there are steps that can be taken to alleviate the dilemma. Growth numbers in housing costs reflect an urgency in local municipalities to resolve the issue before working class households can no longer afford to live in the region.
Inclusionary zoning, or the requirement that new development has to price a certain amount of units below market value, is one solution implemented in south Florida that has successfully housed a number of lower-income households. Other municipalities have gone towards removing their single-family zoning requirements, which mandates suburban home development, in hopes that an increased residential density can alleviate stress on the housing market.
With the price of housing being dependent on the demand for the supply, affordable housing initiatives are often unpopular among homeowners and developers, who can only lose financially from their land losing value. This creates massive strains on Florida cities that already struggle to retain workers that support the tourism industry; however, they earn most of their tax revenue from property owners.
The city of Pensacola and the state of Florida at-large still face an increasing demand for housing and require creative solutions in order to not lose their local populations to growing prices.