Argos down Lady Statesmen, bring winning streak up to seven
The UWF women's basketball team (12-5, 12-3 GSC) beat the Delta State Lady Statesmen (7-12, 6-9 GSC) 51-40 on Thursday night at the UWF Field House. The win made it seven straight for the Argos, who have not lost a single game since falling to Valdosta State 60-56 on Dec. 18.
It was a game the Argos held firmly within their grasp all throughout, as Delta State went the entirety of it without leading once. Guard Alanna Smith and forward Camryn Davis led the Lady Statesmen with 12 and 10 points, respectively, but it was not enough to make up for the overwhelming Argos defense.
Argos head coach Stephanie Yelton cited the defense's consistent containment as playing a monumental role in the win.
While those kinds of goals are often desired by coaches, being able to achieve them in strategic fashion is much easier said than done. However, Coach Yelton highlighted exactly how the Argos controlled Delta State's shot creation—zone defense that minimized interior scoring.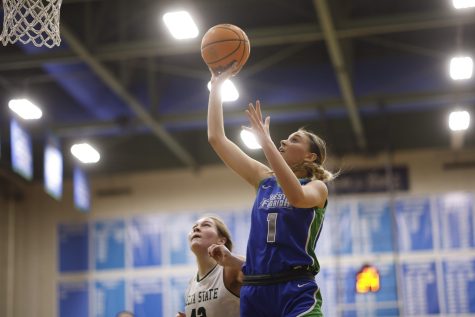 "I thought the big key in the second half for us was to be able to sprinkle in a little bit of zone," she said. "It kept them from driving hard on us and getting layups, and forced them to take more perimeter shots, which is a lesser part of their game."
During Delta State's pregame warm-ups, there was a noticeable reliance on an aggressive, fast-paced playstyle; players would repeatedly pass the ball inside to set up quick jabs from under the net. By the end of the game, the stats had shown that Coach Yelton and her Argos were indeed ready for it.
In total, the Lady Statesmen shot 16-63, shooting under 30% from the field each period.
Another display of UWF's talent was shown through on-court chemistry. Forward Jaclyn Jarnot is one of several Argos who wish to keep adequate teamwork a top priority going forward.
"We're flowing really well, we're sharing the ball well," she said. "It's about playing to our standard.
As for UWF's top scorers, guard Haylee Luttrell led the charge with 12 points, followed by fellow guard Moriah Taylor (9), forward Zoe Piller (9), and Jarnot (8).
Next up for UWF are the Mississippi College Choctaws, a GSC squad that, while struggling as of late, managed to beat the Argos 55-51 in their last meeting from Nov. 26. Despite this, Coach Yelton's confidence in her team has not wavered.
"We've got to continue to just be us," she said. "The more we do that, the more we settle into that, the better we are. I think that's why you've seen a great win streak happening right here."
The Argos take on Mississippi College at the UWF Field House on Saturday, Jan. 21 at 2 p.m. CDT.