Kanye West is Crafting His Own Downfall
November 9, 2022
Anyone who pays a sliver of attention to news and pop culture likely knows of the personality and rapper, Kanye West. In recent years the artist, now legally known as Ye, has become a talking point in media as he has publicized himself as a devout Christian and a stark conservative.
Gaining popularity more as a public figure and less as a rapper, Ye has been outspoken on the issues that he cares about, so much so that he even ran for president in the 2020 United States elections. Sometimes his outspoken nature has gotten him into hot waters. Within the month of October, this truth has been no different.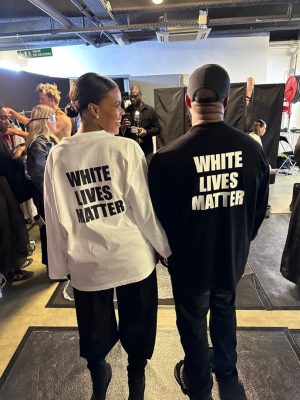 Recently, Ye has been sharing his racist and antisemitic viewpoints on any platform that he can. In interviews, podcasts, and social media, Ye is sharing such views that are getting quite a strong response in the media.
Ye's recent controversies began on Oct. 3, when he was seen wearing a "White Lives Matter" t-shirt with conservative public figure Candace Owens. Ye has become quite popular among conservatives in recent years, which has caused backlash from several people.
Most notably, Sean Combs, better known as Diddy, posted a video on Instagram criticizing Ye's promotion of the White Lives Matter message. This sparked a text feud between the two artists, that Kanye then broadcasted on his Instagram page. The since-removed posts can be viewed here. In the series of posts, Ye insinuates that Diddy is under the control of Jewish people.
After this rampage of posts on Instagram, Ye tweeted a blatantly antisemitic tweet on October 8. The since removed tweet has been archived here. In the message, Ye writes, "I'm going death con 3 On JEWISH PEOPLE" and claims he "can't be Anti Semitic."
In this tweet, Ye is likely referring to DEFCON 3, which is the middle level on the Defense Ready Condition (DEFCON) system used by the US Armed Forces. The DEFCON system describes the levels of alertness and preparedness of the armed forces to go to war. By tweeting this, Ye is insinuating that he is ready to go to war against Jewish people.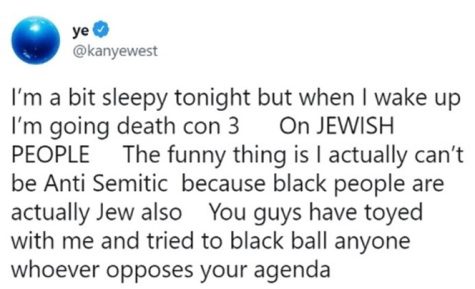 All of the aforementioned posts have since been removed from their respective platforms. These posts led to Ye being temporarily banned from Twitter and Instagram.
Ye's recent antisemitic remarks are now affecting him and his image beyond social media, with several brands cutting ties with the rapper in regard to his fashion brand, Yeezy.
Besides his several decade long music career, Ye is most known for his clothing line, Yeezy. Yeezy has allowed Ye to become a popular figure among the fashion world and collaborate with brands such as Balenciaga, Gap, and Adidas. Unfortunately for Ye, his recent remarks have upset his collaborators to the point of partnerships being terminated.
On Oct. 21, upscale fashion brand Balenciaga cut ties with Ye. Balenciaga's parent company, Kering, announced that Balenciaga would no longer be working with the rapper. The company did not specify why it was severing ties with Ye, but based on the timing, it can be assumed that this decision was made as a result of his recent antisemitic actions. "Balenciaga has no longer any relationship nor any plans for future projects related to this artist," Kering told Women's Wear Daily.
Gap is another brand that is ending its partnership with Ye. In a statement released on October 25, Gap cited Ye's behavior and antisemitism as part of the reason why the partnership is ending. "In September, Gap announced ending its Yeezy Gap partnership," the statement said. "Our former partner's [Ye's] recent remarks and behavior further underscore why."
Gap also announced that the company would be removing Yeezy Gap products from Gap stores and have shut down YeezyGap.com. The company assured their customers that its values do not align with Ye's recent behavior, saying, "Antisemitism, racism and hate in any form are inexcusable and not tolerated in accordance with our values."
The company best associated with Ye and his Yeezy brand is the popular activewear brand Adidas. Yeezy and Adidas have collaborated since 2013, with Yeezy designs being made and sold by Adidas. On Oct. 6, the brand said that it will be placing the partnership "under review" following Ye wearing the White Lives Matter t-shirt.
After all the backlash from his behavior, Ye affirmed that his actions would not affect his relationship with Adidas. On October 16, Ye was a featured guest on a since-deleted episode of the popular podcast, Drink Champs, in which he affirmed that his partnership with Adidas would remain in shape no matter what he says or does.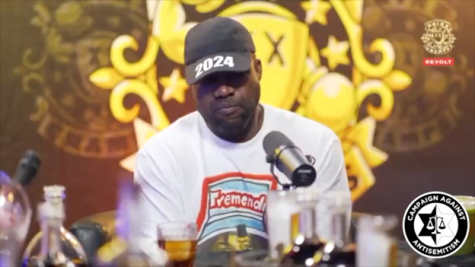 "The thing about me and Adidas is like, I can literally say antisemitic shit and they can't drop me," Ye said. "I can say antisemitic things and Adidas can't drop me," he added, further emphasizing his point.
Unfortunately for Ye, this clip did not age well, as the company severed ties with Ye just days later. Despite almost a decade-long collaboration, Adidas decided to end their partnership with Yeezy to no longer be associated with Ye and his controversial views. On October 25, the company officially ended the relationship and released a statement regarding Yeezy on its website.
The statement reads, "Adidas does not tolerate antisemitism and any other sort of hate speech. Ye's recent comments and actions have been unacceptable, hateful and dangerous, and they violate the company's values of diversity and inclusion, mutual respect and fairness."
The company goes on to describe the immediacy of the partnership's termination, saying, "After a thorough review, the company has taken the decision to terminate the partnership with Ye immediately, end production of Yeezy branded products and stop all payments to Ye and his companies."
This tumultuous timeline of events has unfolded over the past month, and it seems like everyone has heard about Ye's remarks and the backlash he has received from it. Many people are disappointed in his behavior and some Ye fans are withdrawing their support of the artist.
"I've been a fan of Kanye's music for a few years, but I haven't listened to any of his stuff in a couple months now," UWF junior Nolan Costa said. "It's hard to listen when he's actively saying hateful stuff towards Jewish people as well as just other celebrities, including his [now ex] wife. I hope he finds some help because he clearly needs it, if nothing else for his kids."
Ye is a strong advocate for freedom of speech, hence why he speaks his mind so publicly. However, freedom of speech does not ensure that there will be no consequences for the things one says, especially someone with a platform as large as Ye. Some students feel that Adidas terminating its partnership with Ye has shown him that he cannot say whatever he wants with no consequences. UWF Senior Ian Ramirez said Adidas "didn't want the press associating his views with that of Adidas. [It's] just bad for business."
UWF senior Lillie Herbert further elaborated on the consequences, saying, "This dude is kind of crazy. He doesn't expect repercussions, but this time he got them."
For Ye, those repercussions look like losing one of the largest partnerships in fashion, the support of fans, and millions of dollars. Ye's wallet took a huge hit after the Adidas termination. According to Forbes, Adidas dropping Ye as a business partner also dropped him from his billionaire status. Though Ye is still greatly financially secure, his reputation may never be quite the same.