UWF Celebrates National Coming Out Day With Pride
Student groups, local organizations show up to provide resources and support to LGBTQIA+ students
October 17, 2022
This past Tuesday, UWF hosted a formal event for National Coming Out Day in recognition and support of students' experiences surrounding personal identity and sexuality.
The event was planned by the university's Counseling and Psychological Services (CAPS), Office of Equity & Inclusion, Department of Art and Design, Sexuality And Gender Equality organization (SAGE) and Student Government Association (SGA).
A variety of non-profit and student-led organizations occupied the Cannon Green as vendors for the event. Free pizza, snacks, drinks and apparel were provided to students interested.
Though the expectations for student turnout were seemingly exceeded, vendors were well-prepared with activities and memorabilia for those soaking in the energy of the event or those passing by.
"It's important to support our students in all facets of life. It's important for us as a counseling center to be here to support, as we know the coming out process is a challenge and a journey," said Michael Meyers, President of CAPS at UWF. "We want to get the message out that we are here for students. Our support services are available and free of charge. They're all included in the student health fee."
Representatives for many of these organizations spoke a similar same message when asked why they participated in this event: to help LGBTQIA+ students feel safe and spread awareness about support spaces for those struggling.
One local organization, Sunday's Child, was flooded with students curious about resources and opportunities within their community. Sunday's Child is a non-profit organization which funds grants and scholarships for applicable students.
Sunday's Child has been operating in the Pensacola area for the past nine years and is participating at UWF events again for the first time since before the COVID-19 pandemic.
"We focus on diversity and inclusion," said Jacey Cosentino, Pensacola native and President of Sunday's Child. "All of our membership dollars go to help support other local non-profits in the area… We're coming up on our ninth year and have given back almost $1,000,000 to the Pensacola and Santa Rosa communities."
SAGE, one of the key organizers for the event and funded by SGA, has been successful in their vision of creating a space for LGBTQIA+ students and others. Hosting meetings every Tuesday in the Communications building, SAGE touts the highest number of student registrations for any organizations on UWF's campus.
"We're trying to get more inclusion in the community," said Laylah Curran, a service chair committee member with SAGE. "If you're needing that community then you've found that here with SAGE. We accept people of all different sexualities, gender preference and identities, if that's you come and see us."
UWF's student organizations were adamant about the creation and sustainment of spaces in which LGBTQ+ students on campus felt invited and safe. Organizers were discussing the details of membership and inclusion with those interested while simultaneously providing information for students unfamiliar with the plights of their peers.
This well-rounded effort attracted the attention of many students and kept them engaged throughout the entirety of my time at the event.
When asked about their motives for participating while in school full time, many of the student organizers described personal experiences that inspired them to pursue working—whether professional or through activism and volunteering— to protect LGBTQ+ peers and youth.
Jocee Sevilla, Vice President of non-profit Active Minds' UWF chapter, took some time to describe the organization's purpose and activities on campus, in addition to future projects they may undertake.
Active Minds meets every Thursday, and members typically discuss topics surrounding mental health. The organization works closely with CAPS to bring awareness to the mental health field and tries to decrease the stigmas college students may be dealing with on a consistent basis.
During my conversation with Sevilla, they described Active Minds' mental health advocacy, suicide prevention and community building principles, which they try to personally emulate.
"Students, including LGBT students, usually don't feel comfortable reaching out. Active Minds is a very safe place to express your true identity and meet some really awesome people that may have similar experiences as you," they said. "We can support each other as friends, as students, as community members, but we also support each other in the ability to get professional help."
When asked for ways that UWF could help or better support LGBTQ+ students, Sevilla had one response: allyship.
"Events like this, I really think, are a huge step in the right direction… Acceptance and  understanding and education are where we start in being able to further the conversation," they said. "Everyone in my life, especially the people I'm in Active Minds with as well as my friends in classes, were extremely supportive in me coming out… I greatly appreciate the support I get, some people don't get that support."
Participants mainly walked away with memorabilia and goodies, but some stands—like the following—provided visual examples of these concepts in order to facilitate an easier understanding of some complexities behind sexuality and gender identity experiences.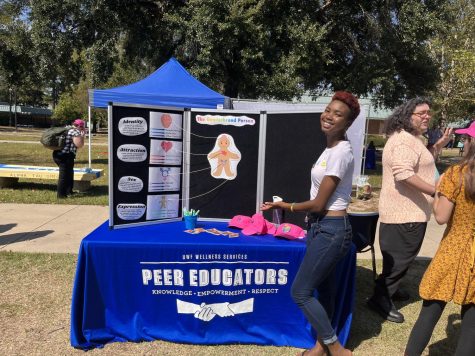 When asked about companionship, community on campus and UWF's role in supporting it, Maxwell praised UWF for their efforts and its students for their unrelenting support of each other.
"The students themselves have done a great job in creating different avenues for acceptance and community," they said. "Also the Office of Diversity and Inclusion's creation of the SAGE space and bringing it back to our campus, I feel like that's a great start and we can kind of expand on those programs and continue to provide more resources and more events like this."
During my time at the event, my conversations with local groups helped me learn just how much support exists for LGBTQ+ students in the Pensacola area.
Sidney Robinson, member of PensaPride and the Cultural Affairs Coordinator for the city of Pensacola, explained the vision behind the recently formed organization and the role they expect to play in the local community.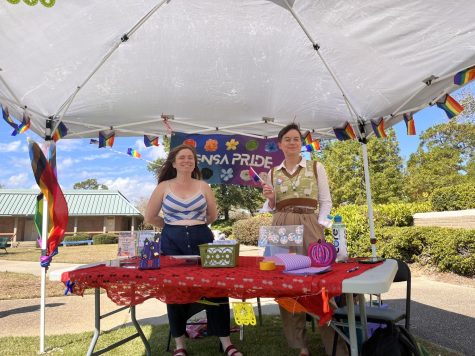 "We're focused on community building for LGBTQIA individuals so that we can create a place where people can come and feel safe," they said. "We put on the yearly PensaPride event in June, with a specified date being announced on our social media @PensaPride."
The dedication to love and peace on display by local organizations inspires hope for those seeking genuine community and connection.
Some organizers—such as those with Free Mom Hugs' chapter in Pensacola—described this dedication as a lifelong commitment to understanding.
"My son is pansexual and we've always been very supportive of our children and their friends, but he was still scared and full of tears when he came out to me," said one mother with the organization. "We hope we can be that for someone else, if they don't have that support at home. Be thankful that your child is sharing more of themselves with you. It's not that your child is changing, it's who your child is."
When asked how parents can prepare or approach the conversation should their child come out to them, the group unanimously agreed that listening was the most important aspect and that forming groups around topics like this enables quicker learning for less receptive parents.
"We're here to provide love and support and acceptance… We'll be there for kids whose parents aren't there yet," they said. "Hatred is born from ignorance… the more we as a society are educated the more understanding and patience will follow, and love as well."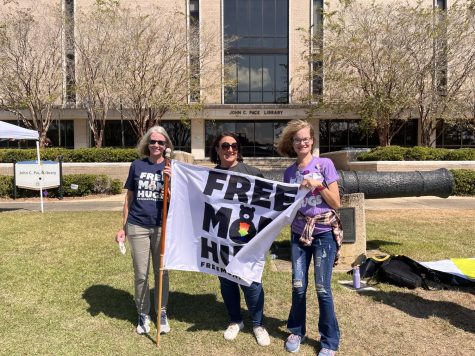 Many of the student organizers I spoke with discussed an understanding of freedom of speech and its necessity for our society, but emphasized a need to understand how speech can be just as violent as physical harm.
As we continue to move forward as a society, more events and conversation like this are required en masse in order to better understand one another on a fundamental level.
Those lacking the empathy and compassion to engage in this conversation will slowly, but surely fade into the silent minority statistically and leave less of an impact on the morality of future generations.