Pennsylvania Turkey Farmers Charged with Animal Abuse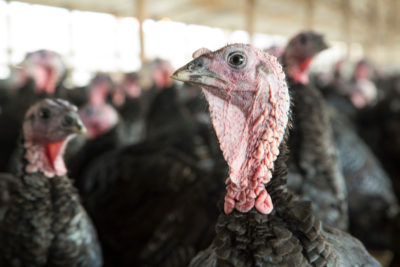 On Oct. 6, 2022, 11 people were charged with animal cruelty in seven different farms across central and southeastern Pennsylvania. The farms are said to be owned by Plainville Farms, a turkey company whose products are commonly sold at Publix and Wegmans.
An investigation was launched after a complaint was filed by PETA for suspicions of animal cruelty. An undercover investigator was sent in, only to record video footage of workers actively kicking and beating turkeys during the herding process.
A total of 139 charges are said to be placed against the 11 workers, including six felony counts of aggravated cruelty to animals and 76 misdemeanor counts of animal cruelty.
"This was a lengthy, detailed investigation that involved reviewing a lot of evidence at multiple locations," said Cpl. Michael Spada, a state police animal cruelty officer.
Plainville Farms has since made swift changes to their system, claiming to have a "zero tolerance for anything like the alleged actions of these former employees," as said by Matt Goodson, the company's chief executive officer. These changes are said to include installing stationary cameras and body cameras to monitor those involved in the catching/herding process.
Plainville Farms has advertised its turkeys to be "humanely raised in a stress-free environment," but after recent events, the Global Animal Partnership has suspended the company from the certification program until further notice.
Animal cruelty continues to happen all over the world, including in areas most would least suspect. According to lcanimal.org, 97% of abused animals each year are farm animals. Unfortunately, this number has been upwards of 10 million animals from this last year.
If you or someone you know are suspicious of animal cruelty occurring in your area, contact and report it to your local police or animal control.