UWF students share opinions on the legalization of marijuana
April 26, 2022
On April 1, the U.S. House of Representatives passed the Marijuana Opportunity Reinvestment and Expungement (MORE) Act, a bill that would decriminalize marijuana on the federal level by removing it from the list of controlled substances. The bill would also provide certain social reforms as well as establish a process to expunge prior cannabis-related drug convictions.
Passed largely along party lines with a vote of 220-204, the MORE Act lacks overwhelming support from House Republicans. The Senate has not voted on the bill as of yet but is expected to face certain opposition when that time comes. The bill was previously passed by the House in 2020 but was left on the floor without calling for a vote by the Senate.
According to a poll from the Pew Research Center, 60% of Americans believe that marijuana should be legalized for both medical and recreational use. In the state of Florida, medical marijuana was legalized in 2016 but has not been legalized for recreational use.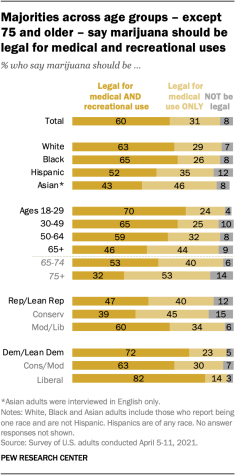 The same Pew Research Center poll also indicates that 70% of adults aged 18-29 believe that marijuana should be legalized for both medical and recreational use. A small pool of students interviewed at the University of West Florida reflects this trend, with the majority of those in favor of the legalization of recreational marijuana. 
"Personally, I don't see an issue with it," said Chelsey Heenin, a biomedical sciences major. "I don't feel like it's not safe to use. Obviously, with any substance, there's an importance to not overdo it."
Students pointed out various benefits to legalizing marijuana on the federal level. This includes increased tax revenue and safer alternatives to opioids and other painkillers.
"I feel like if you start to regulate things, it allows a lot more opportunities for safety," said Ian Ryan, a nursing major. "When you start to open up the doors and allow people to make it more regulated, it brings in tax revenue and allows us to have a better understanding of what we're getting as a product."
Many of the students interviewed agree that if legalized federally, the sale of recreational marijuana should be controlled and regulated. This could keep potential buyers safe from exposure to unknowingly laced substances. 
"I think it's good to have it regulated that way as well because people are going to go out of their way to get this no matter what, if it's legal or illegal," said Zachary McQuaid, a nursing major. "It could be cut with any kind of other substance and that could cause a lot more issues, so I think it should be approved federally."
Other students drew comparisons to legal drugs in the United States, including alcohol and tobacco. Although each substance has risks of its own, some students believe that marijuana may be an equal or safer alternative to legal drugs. 
"I think that people have the right to make their own decisions, and medical marijuana or recreational marijuana is one of those decisions," said Pax Johnson, a graduate student. "We see more incidents with alcohol and incidents of cancers and other things with cigarettes than we do with marijuana, and yet it's still illegal."
Much like the Pew Research Center poll, not all college-aged students are proponents of the legalization of recreational marijuana. A few of the students interviewed said that they have no strong beliefs on the issue either way. 
"I'm kind of neutral about it," said Max, a finance major. "I wouldn't really care if [the legalization of recreational marijuana] happened and I wouldn't be angry if it didn't happen. I think it has a lot of opportunities for helping people with different illnesses, but also for tax purposes." 
Despite this, many students in favor of legalization on the federal level were also in favor of a component of the MORE Act that would expunge prior cannabis-related drug convictions. 
"I think our prisons are overcrowded anyway, and it would be fantastic if it's a nonviolent crime for people to get out," Heenin said. "Tax dollars won't be used for someone who didn't do something violent or harm anyone else, they were just using a substance."
Some students in favor of the bill noted that it could divert police efforts to more serious issues. Others pointed out that in some cases, people who commit more serious crimes walk free while those charged with possession or distribution of marijuana sit in jail for years on end. 
"I think [the passage of this bill] would eliminate the stigma of marijuana use, and I feel it's not as bad as a lot of people make it out to be," said McQuaid. "Law enforcement and the correctional facilities can better use their time and money going after something that's bigger than marijuana use." 
Not all students are on board with the expungement of prior convictions that the bill would establish. A few believe that if you knowingly possessed or trafficked marijuana while it was against the law, your convictions should not go away. 
"I think if you broke the law previously to it, then I think it shouldn't change what happened," said Max. "It was illegal prior and it still is." 
Although the majority of UWF students interviewed are in favor of the legalization of recreational marijuana on the federal level, many would like to see additional provisions added to the MORE Act. This includes reform on drug education and better access to addiction and mental health services. 
"We've seen that criminalizing a lot of different drugs like that can affect different populations disproportionately, so I think that [the passage of this bill] would counteract that," said Stephanie Rinehart, a psychology major. 
For more information about the Marijuana Opportunity Reinvestment and Expungement Act, click here. If you would like to voice your support of or opposition to this bill, contact your state's senators. You can contact any U.S. senator by clicking here.