UWF student gets work featured in downtown Pensacola gallery
April 16, 2022
Michelle Luther, a Fine Art major at the University of West Florida, was given the opportunity to have her paintings and pottery work shown and sold in its own exhibition at the Blue Morning Galley on Palafox. The artwork itself will still be up for display until the end of April 2022.
Luther was given this opportunity thanks to the faculty and staff electing her as the art department's best candidate to have her work displayed on behalf of UWF. Not only does she get the opportunity to sell her work publicly, she will also gain a $1,000 scholarship for her efforts.
Luther is 21 years old and has been doing art ever since she was a child, however, her interest increased once she entered high school. During her reception on April 1, she was kind enough to answer some questions for us as well as allow photos to be taken of her art. The majority of these photos can be found near the bottom of the article.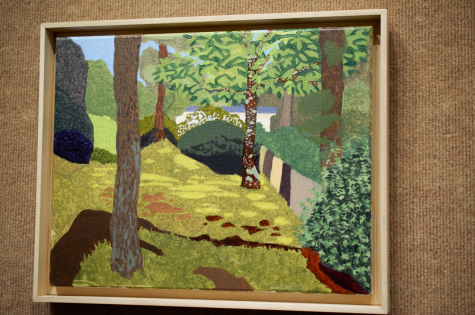 How do you feel about having your artwork displayed here in the Blue Morning Gallery?
Very shocked. I didn't expect to be nominated for this scholarship, but it's very exciting. It's definitely helped me realize what it takes to put things in a gallery and it's definitely a huge learning experience. I'm very happy, overall, to be given this opportunity. 
Are there any tips or words of advice you can give to new artists now that you've reached this point?
Hmm… Keep experimenting and don't be afraid for your art to have mistakes in it. I think a lot of artists are scared of making mistakes in their art or screwing it up. I've tried to let that go and through that I've been able to progress a lot in my art and techniques, especially in ceramics and paintings. 
Do you have a preferred medium out of all the ones you've displayed today or just in general? 
Mm, I think I equally love painting and ceramics at this point, but I am leaning more towards painting because how many different variations in color you can use and the techniques you can use to apply paint. That's definitely been unexpected since I just started painting a couple semesters ago.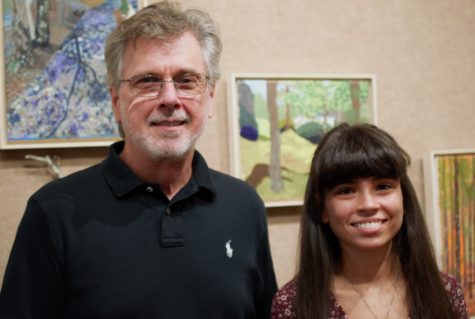 Do you have anyone who has inspired you during your career so far?
My professor Mr. Markowitz has inspired me a lot. I look up to him because of his love for painting. His face lights up when he talks about painting and I know he just enjoys teaching his profession to other students. I want to have that kind of passion and love for my career to where people can see that and get inspired by it. But also, I think when you outwardly show you love your career, when you're truly content with your choice, I want to have that kind of peace, that happiness in art. And I also want to put as much hard work as he has into his work into mine.
…
We thank Luther for taking her time to answer these questions and wish her luck on her future career as an artist. Below are some more images of the work Luther decided to display!
If you're someone looking to reach out to Michelle Luther, her email is [email protected] and her phone contact is (850) 602-8855.