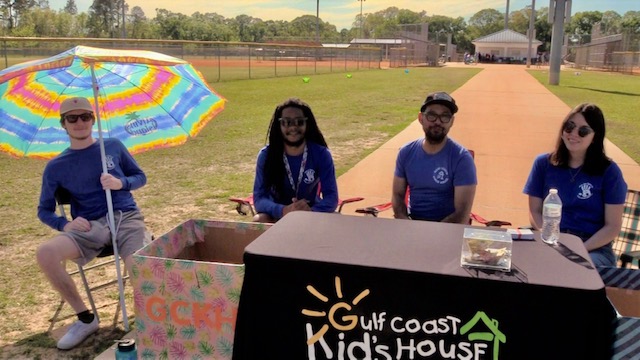 UWF students, Gulf Coast Kids House host field day to spread child abuse awareness
April 8, 2022
On April 1, a group of UWF Communication students, in conjunction with Gulf Coast Kids House (GCKH), held a Field Day at the Northeast Pensacola Ballpark. Dozens participated in the donut and pizza-filled day, with the goal of spreading awareness of child abuse occurring here in Escambia County.
The fun-filled day in the sun, which was sponsored by Buffalo Wild Wings, included tee-ball games, a bouncy house, temporary tattoos and bubbles among other things sure to catch the kiddos' attention. Patrons were asked to wear blue in honor of Child Abuse Prevention Month.
"It was a good idea, and I think with their resources especially, I think that they [GCKH] could make it a lot more like an annual thing to do and really help spread awareness for people who might not know about it right now," Tori Gross, a UWF student and organizer of the event said.
Gulf Coast Kids House is a children's advocacy center that serves those living in Escambia County.
Founded in 1998, the center opened its first physical location, the Marilyn Kapner Levin Center for Child Advocacy and Child Abuse Prevention, in 2004. Since then, the center has served thousands of children and families, providing services to over 3,000 children in 2019 alone.
Gross, whose career plans include working with animal nonprofits, says the event provided the students, most of whom are seniors, with ample opportunity for both professional and personal development.
"I think it was really cool that I got to kind of see a glimpse of what I wanted my career to be because it was exactly what we did at Field Day, which is creating an event out of basically nothing and turning it into something," Gross said.
The UWF group was formed on Jan. 28 in a leadership class that gives students opportunities to gain real-world leadership experience each semester. Through the class, students partner with nonprofit organizations to create change within the local community.
Members have also been homing in on their marketing skills, handing out approximately 700 business cards at various events and locations in Pensacola, including Pensacon and Gallery Night.
Funds raised during the event totaled $250, placing the group at $940 overall, just $60 short of their $1,000 goal. Their main goal as of now, however, is to increase their social media presence and get 1,500 people to complete GCKH's child abuse prevention course by April 29.
To complete the course, go to Knowchildabuse.org, click on start training, take it as an organization, and select UWF Communications Class Spring 2022.
On April 11, the group will have a booth set up at the Blue Wahoos baseball game and will be at Cordova Mall on April 16. You can also catch them a few days a week outside of Pace Library on UWF's Pensacola campus.
For more information about the group, contact Karah McDougald at (850)-693-0255 or at [email protected]
For more information about Gulf Coast Kids House, call (850) 595-5780 or visit their website at www.gulfcoastkidshouse.org. Check out Gulf Coast Kid's House's Instagram page here.