UWF student paints mural in downtown Pensacola
Nell Arnett, a UWF Communications and Graphic Design student, recently completed a mural with a theme centered around emotional problems and societal issues. The mural took two days for them to complete.
Nell says that they were eager to jump at the chance to work on this piece after being part of a team who worked on the Black Lives Matter mural located on the second floor of the UWF main campus library. After working alongside Center for Fine and Performing Arts academic advisor Marzia Ransom, Nell learned a lot about the major impact public art has and the influence and motivation it can bring to a community.
Unlike the previous project, the artist created this mural by themself. Despite the challenges that come with painting such a large piece alone, they found it easier and more enjoyable when they were surrounded by other artists doing the same work as they were.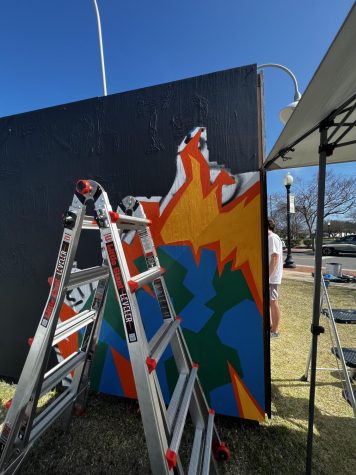 The following is a small section of Nell's artist statement that explains the meaning behind their design choices: "This work communicates that there's nothing wrong with feeling like you're your worst, and the use of the globe exemplifies that this is a worldwide issue. However, the issues that human society is facing won't just disappear if we pretend that all is well or if we simply accept our new reality. If reading the text from top down, a viewer first reads 'it's not okay.' It's okay if you're not okay, but the world isn't okay."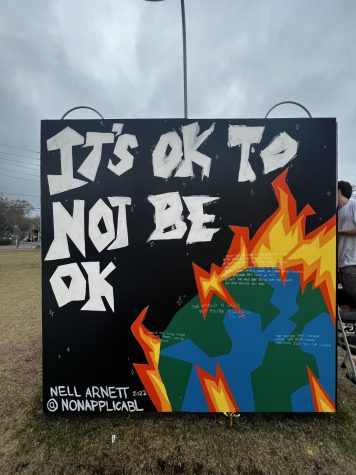 When asked if they planned to do similar work in the future, Nell replied, "I definitely plan on doing more murals in the future. They bring so much life to an area, and I admire the power they can have." They also admit that after completing the mural, multiple people messaged them on their Instagram (@nonapplicabl) with positive feedback and encouragement.
The mural can be found behind the Pensacola Museum of History just off of East Zaragoza Street in downtown Pensacola.