Tough loss for Men's Basketball on last conference game
West Florida's Men's Basketball team had a tough one to swallow tonight at the UWF Field House, falling 83-81 to the West Georgia Wolves. 
Fans saw the Argos suit up in army-camouflage uniforms for the last conference game of the season as part of Military Appreciation Night. After starting the game hot from the field and doing a good job defensively, UWF reached halftime, leading the score by 50-35. 
Guard Daniel Sofield started the night with five unanswered points, and the lead reached a peak of 17 points halfway through the first half. "We got good shots, made shots, really defended well," said Coach Jeff Burkhamer. "And then the second half they flipped." 
West Georgia came back from the locker room shooting an outstanding 11-13 from the field and got themselves back in the fight. "I think we just hoped they would miss, and they didn't. Instead of the lead going from 15 to 20, it went from 15 to 9," said Burkhamer. 
Rivals' hot hands continued throughout the whole second half, and the visiting team caught up tying the game at 59-59 with 13 minutes left. Both teams kept the score close down the stretch until the Wolves went on a ten-to-nothing run and got the first and only lead change of the night with three minutes left on the clock. 
The Argos were trailing by eight points. A jumper and a free-throw by point-guard LaTrell Tate brought the score to 78-73, but a dagger three-pointer by opposing guard Kadeim Jones seemed to put a nail to UWF's coffin with 44 seconds left. UWF kept fighting, and a quick two from Tate followed by a three-pointer from Sofield lit up the Field House once again. 
West Georgia's guard Seth Carter-Brown was sent to the free-throw line and iced the game, putting a five-point lead in the score. Argos' guard Brandon Burford even made a three-pointer with less than a second left, but there wasn't enough time anymore. The Wolves pulled an 83-81 away win in a great comeback.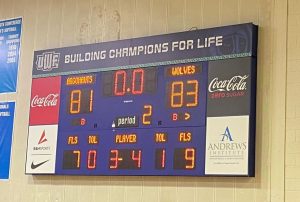 Coach Burkhamer mentioned the Argos' defense as part of West Georgia's comeback in the second half. "We didn't guard at all, and they shot 65%. I thought their execution down the stretch was better than ours, they were able to finish plays. We didn't guard very well," he said. 
"We got to do a better job guarding the ball, which has been a problem all year long. And we got to do a better job executing in critical times and making shots when we have them," Burkhamer said, looking forward to the Gulf South Conference Tournament coming up next week. The host city will be decided once the final conference standings are set this weekend.
The Argonauts will receive Spring Hill College on Feb. 25 for their last regular season game. It could be the farewell home game for guard Darrin Jenkins and big-man Jackson Henningfield, who are respectively pursuing master's degrees in Business Administration and Engineering. Coach Burkhamer will make sure the team gives them a great one: "We will try to win our last game, try to win for our two post-grads and have some type of momentum maybe going into the (GSC) tournament."