Pensacon goes off without a hitch
February 23, 2022
Fans, stans and foodies all came together this weekend at the Pensacola Bay Center for the ninth annual Pensacon, where lightsabers and capes were nothing short of abundant. Tens of thousands of people showed up for the event, which has become a staple in the community since its founding back in 2013. Whether it be Patrick Star or The Ghostbusters, Pensacon's attendees came to show up and of course, show out. 
While the event did host an impressive guest list that included the likes of George Takei (Star Trek, Mulan) and Giancarlo Espacito (Breaking Bad) among others, cosplay took home the cake. Several attendees, donning bought and custom-made costumes, strutted through the event unblushingly as various media outlets captured them on camera. Infamous characters like Red Skull from the Marvel Universe were posted up as awe-inspired patrons attempted to muster up the courage to ask for a photo-op. 
Ed McCarthy, a Pensacola native who served as the event's announcer, has been involved with Pensacon since its inception and said that both the simple and more elaborate costumes represent the event's appreciation and acceptance of diversity.
"There's no such thing as shame in this game. I have seen some costumes that were five minutes' worth of effort and I have seen some costumes that were five months' worth of effort, and everybody is accepting."
McCarthy, like many of the individuals in costume, garnered attention for his choice of dress, which happened to be DC's Harley Quinn.
"Half the people are looking at me and laughing, which is fine, and half the people are like 'oh my god, you're amazing,' which is fine."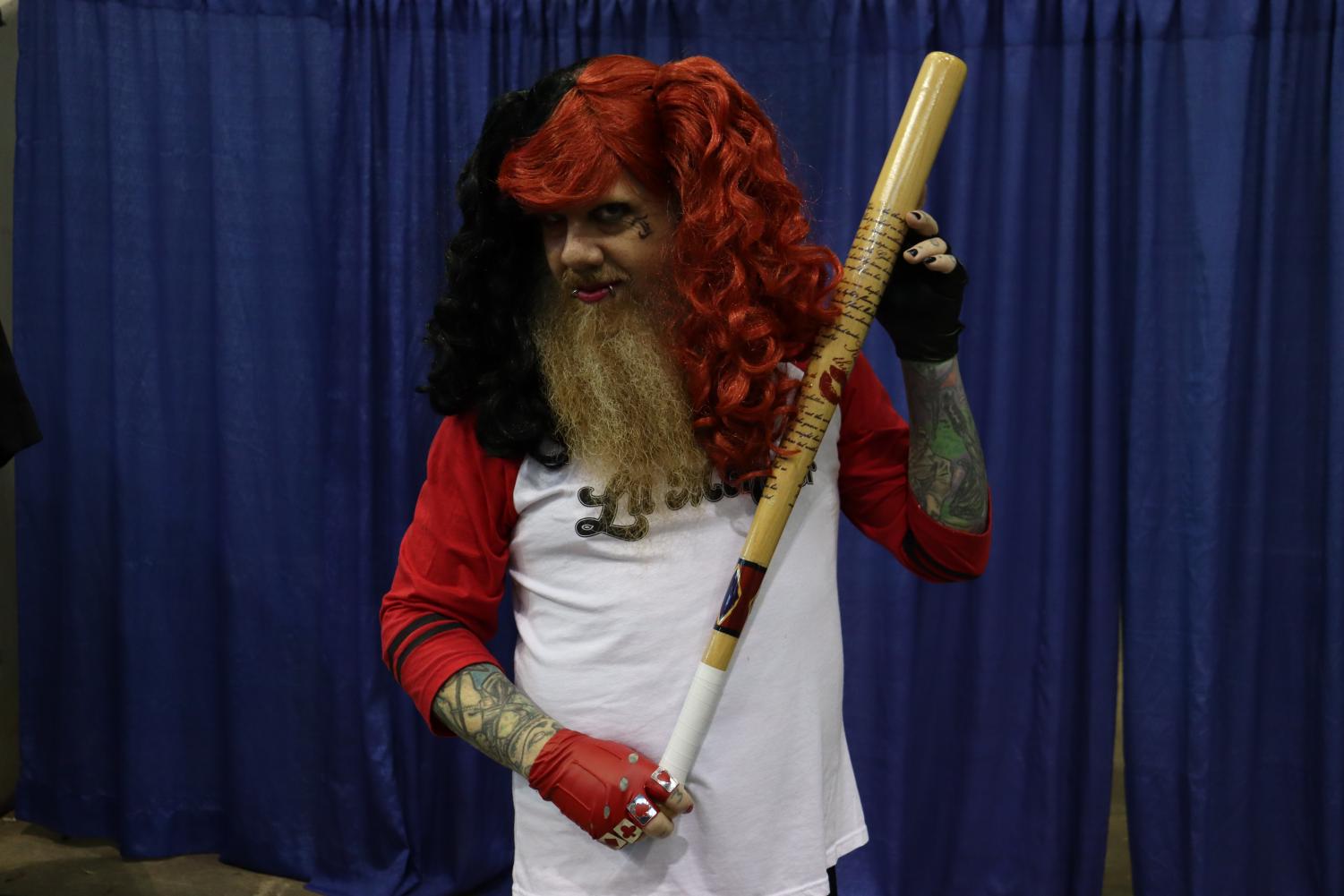 "
There's no such thing as shame in this game.
— Ed McCarthy, Pensacon Attendee
At various booths, writers and authors were able to showcase their work to fans and fans-to-be. Nancy Collins, an award-winning fiction writer known for vampire novels featuring the character Sonja Blue, deemed Pensacon an opportunity to get out of the house and connect with her fellow creatives.
"My favorite thing about coming to cons is getting to actually see people in my line of work because it can be a very isolating thing sitting by yourself in front of your computer," she said. "I talk to a lot of these people on Facebook all the time but it's not like I get to hang out with them. It's really fun being able to meet people that work in the same vineyard as I do." 
In addition to the opportunity to mix and mingle, Collins noted the great care and attention shown to the event's guests by its staff as another reason for her returning each year.
"[Pensacon] treats us well here, they treat the creative people well here. I really appreciate it, because I have been to conventions where you're left to your own devices, but they make sure that we're fed, we have good hotels, that we can get where we're going on time to the panels, so it's one of my favorite conventions."
Pensacon, to many, has become a hub for happiness, joy and creativity in the nine years since founder Mike Ensley decided that Pensacola rightfully deserved its very own "con."
In 2020, Pensacon's Marketing Director Julio Diaz, in an interview with WEAR-TV, said that it was Ensley's experiences at other cons over the years that led him to believe that "it was time to bring something like [this to] Pensacola." 
And it is that belief that has led many patrons to return to Pensacon time and time again. According to Ensley, attendance for Pensacon 2022 was a record high, with numbers still being calculated Monday. Those with one-day passes to Saturday's event were even given free admission to the Sunday portion due to long lines. 
"At this point, coming to Pensacon has become a habit. I like being here, I like seeing all the unique products come through, and I like people watching. You see a lot of people who put so much work into their costumes and it blows me away," said Jeremy Loveless of Pensacola.
Despite facing various obstacles prior to attending Pensacon, some patrons say it is an event that cannot be missed. This was made clear during last year's event, which drew in a crowd of more than 30,000 even after COVID-19 concerns warranted a new date.
"I have never gotten a chance to go to Pensacon and my fiancé went a couple of years ago, so he decided I had to see it this year," said Ivy Burroughs of Pensacola. "Regardless of a broken ankle, I was making sure I was here this year."
Burroughs, who came as Cara Dune from "The Mandalorian," said the event staff made her visit a breeze, making sure that she was comfortable and "able to be taken care of the entire time."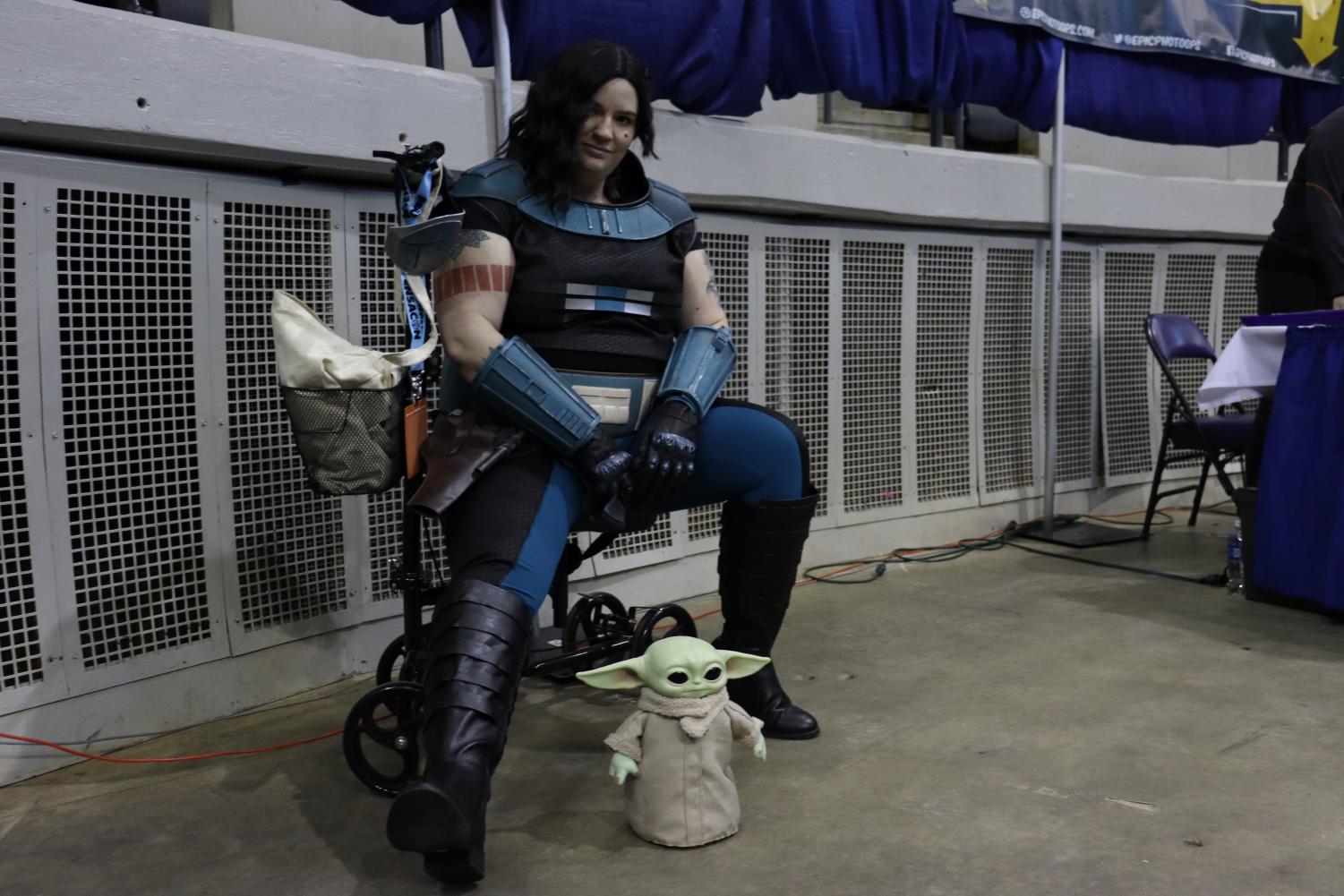 Pensacon 2023 is expected to return on Feb. 26-28, with Sam J. Jones ("Flash Gordon"), Grey DeLisle Griffin ("Scooby-Doo") and Bryce Papenbrook ("Attack on Titan") among those added to the guest list. The event is set to be held primarily at the Bay Center with other venues tapped to help accommodate the large crowd.
Fans can follow the event on Instagram @PensacolaPensacon for more information as new guests are added to the lineup.
Photos from this story by Hunter Morrison