Modern slavery lurks among us
Local organizations combat human trafficking
February 18, 2022
Slavery no longer exists in the United States, or so it's thought not to exist. 
From the moment that the Thirteenth Amendment was adopted into the United States Constitution, the plan was that slavery would no longer have a place in the U.S., but that isn't the exact reality today. 
While you can no longer find slave auction houses or the Transatlantic Slave Trade, a mode of slavery still lurks among us, but now bears the name human trafficking. 
The International Labor Organization (ILO) along with the International Organization for Migration (IOM) released in a 2017 report that at any given time in 2016 there were approximately 24.9 million victims of forced labor. 
The ILO estimates that worldwide human trafficking rates surged by 4.9% at the start of the COVID-19 pandemic in 2020.
Globally, as of 2022, the ILO has reported that Asia and the Pacific make up over half of the world's labor force. 
Just because human trafficking is a serious issue internationally and there are countries outside of the United States where the problem is worse, that doesn't mean the problem doesn't exist within our own backyards.
According to the Human Trafficking Institute, the U.S. federal courts have seen an 11% increase in trafficking cases since 2019, handling 579 human trafficking cases with a total of 1,004 defendants in 2020. 
So where does Florida stand in regards to human trafficking? 
Well, despite being known for its sandy white beaches, diversified ecosystems and amusement parks that bring in tourists from all over the world, there is a darkness that lurks within the shadows of the sunshine state.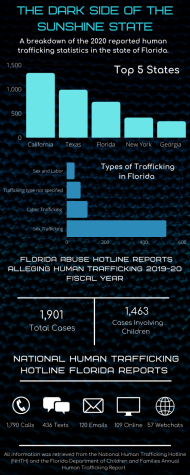 Human trafficking is actively happening throughout Florida. Escambia and the surrounding counties aren't left out of this reality. 
The Walton County Sheriff Office, with assistance from 10 Florida agencies, arrested 12 men on charges of child solicitation during a multi-day Internet Crimes against Children operation Jan. 26-30.   
An elaborate multi-agency investigation dubbed Operation Wolves Blanket has resulted in the arrest of 12 men on charges of child solicitation.

Click the link to read more. https://t.co/5b0Rj0dgTQ

— Walton Co. Sheriff (@WCSOFL) February 1, 2022
"Our goal was to identify child predators and get them out of our communities,"  Walton County Sheriff Michael Adkinson said. "There is no shortage of these individuals preying on our youth; we must all be vigilant."
During the investigation, which was called "Operation Wolves Blanket" undercover investigators posed as minors to identify those targeting children under the age of 14 on the internet.   
Twelve individuals, some traveling from as far as Gulfport, Mississippi were caught from the operation and have since been arrested and charged. 
"We are along the I10 corridor, so we have immediate access to hotspots like Atlanta, New Orleans, and Miami," Gulf Coast Kid's House Executive Director, Stacey Kostevicki said. 
Though human trafficking is an active problem in the Florida panhandle, organizations like the Gulf Coast Kid's House (GCKH) are working hard to decrease human trafficking and assist the victims in the local community.
The GCKH is a local children's advocacy center that strives to minimize child abuse and assist families who have experienced trauma from child abuse cases. They have worked with the Escambia County Sheriff's Office to improve the tracking of trafficking cases in the area.   
View this post on Instagram
GCKH has recently partnered with The Nissi Project to develop a protocol for multidisciplinary agencies to know how they should respond to reports and support the victims of human trafficking. The organizations have also worked together to host community training events. 

Human trafficking isn't something that is bounded to only in-person interactions. According to Pew Research Center, 85% of Americans have a smartphone. With the internet being in the back pockets of the majority of the country, the presence of trafficking online continues to increase. Some of the victims impacted by online trafficking are as young as nine years old. 

"We are seeing more and more trafficking happening online," Kostevicki said. "Often the victims don't ever meet their offenders."

GCKH is not the only nonprofit in the community that is making strives to combat human trafficking locally. There are several other organizations that are actively working against human trafficking.

The Secret Place Home (TSPH) is a faith-based organization that is dedicated to providing female victims, from 12-24 years old and their families with the tools and resources to heal and recover from their personal abusive experiences. 

TSPH has partnered with Community Health of Northwest Florida to help provide the young women in their program with all of the basic medical care needs. The organization also strive to provide them with a loving support system.

"

They just finally felt seen

— The Secret Place Home Director, Alicia Tappan

"We need the father to the fatherless," Tappan told the Men's Group of Sertoma as TSPH worked to plan a baby shower for five of the young women in their program at the end of 2021. The group was able to provide each expecting mom with everything they could need for their coming baby, from diapers and wipes to car seats.

TSPH works on building relationships with each of the girls in their program to help ignite a sense of hope and purpose in their lives. The organization also gives them opportunities to partake in expressive activities such as equine therapy, arts, writing and gardening. "It's amazing to watch these girls who can barely receive a physical hug from a human get nuzzled on by a horse," Tappan said.

Tappan is hopeful in the progression of the current generation and continues to spread awareness about human trafficking across the county to see it decrease as the awareness of the problem increases.

Professionals and nonprofit organizations aren't the only ones taking a stand against human trafficking in the community. Local college students are also finding ways to be a part of the solution.  

The Phi Beta Kappa (PTK) chapter at Pensacola State College established the Transformation Through Education scholarship fund. The scholarship is designed to assist human trafficking in their pursuit of an education. 

It was the PTK's Honors study topic theme entitled "Transformations: Acknowledging, Assessing and Achieving Change" that led the students of spring 2019 to research human trafficking on a local level. 

"Through our research, the chapter found that Escambia County on the Panhandle has the highest percentage of human trafficking cases reported in the entire state." PTK Advisor Jeff Wooters said. "This discovery caused not only concern, but a passion to find out what is really going on."

As the chapter continued to explore the impact of human trafficking locally, they found that many victims lack an education due to dropping out of school. That's when PTK realized they wanted to find ways to help victims obtain a degree. 

PTK held a fundraising dance production event with local dance company Chaddah titled "Encounters of Hope" to raise funds for the human trafficking scholarship on Feb. 5.  Chaddah told the true stories of human trafficking through their dance performance. 

"Encounters of Hope" was able to raise thousands of dollars for the scholarship fund. "Every dollar of the tickets went straight into the scholarship," Gordon said.

The chapter hopes to award a scholarship to a student in fall 2022. They have partnered with TSP to securely identify individual recipients for the scholarship.  

You don't have to be the leader of an organization or president of a society or club in order to get involved with the anti-human trafficking movement. There are many ways to take part in the conversation.  

The GCKH offers Know Child Abuse, a free, 40-minute training course that teaches you how to spot the signs of human trafficking and other abusive situations involving minors. 

Gulf Coast Kid's House

"The biggest thing is education – the exchange of any goods or services, or anything of value for sexual use (photos, physical activity) or labor is trafficking," Kostevicki said. 

Students can get involved with The Secret Place Home in different ways. They can take training courses and a level one background check to get directly involved with volunteering for the organization. Students can also connect with Tappan and TSPH to have them come to speak to their clubs and organizations and partake in service-learning projects connected to the organization. Tappan would love to see the young women in TSPH connect with their peers who are in college. "They need that sisterhood," Tappan said.

If you are interested in supporting the PTK Transformation Through Education scholarship, you can make a donation through the website donation form or by sending a check to "The Pensacola State College Foundation." Be sure to include a note stating "PTK Transformation Through Education Scholarship." You can mail or drop off the check at Pensacola State College Foundation, 1000 College Boulevard, Building 17, Pensacola Fl. 32504. 

If you think you may have witnessed or know someone who may be subjected to human trafficking, visit the U.S. Department Of State to learn more about how to report a potential trafficking situation.

Slavery still exists in the world, but by staying educated and with the continued hard work and support from organizations and the community, we can decrease human trafficking in Florida, in the United States and in the world. 

Before reading this, were you aware of the local threat that human trafficking has on the community?

Sorry, there was an error loading this poll.