Local organizations assist homeless after city's vacate order
February 9, 2022
Jan 31. was the deadline for homeless individuals living in an encampment under the Interstate 110 bridge to vacate so that restoration efforts could be made to the Hollice T. Williams Park. This left hundreds of Pensacola's homeless looking for a place to relocate. 
Several organizations in the Pensacola area have helped and are continuing to help those who have been displaced because of the city's vacation notice. Some organizations have also worked together to ease the transitioning process for these individuals.
"From day one, we were there seven days a week," said Melissa Johnson, program director for ReEntry Alliance Pensacola's (REAP) Maxwell Respite Center and SOS Center. Johnson is also the founder of Fearless Community Inc., a local organization geared toward helping the homeless.
Both organizations have worked together to help relocate and bring these individuals to the success stories they want. 
"We went to every single person [living in the encampment], and I made a list of solutions throughout the whole state and into Alabama and Mississippi, just in case some people did not want to be here," Johnson added. "We went out and researched everything that we could to get multiple answers for people, and we've presented them with more than just the SOS Center or new organizations that the city had helped fund. We offered them different options that could benefit their life even more, and that came from getting to know each other."
The weekend before the city's vacation deadline, REAP, in addition to other organizations and volunteers, worked tirelessly to help organize and relocate the homeless and their belongings. 
"All weekend long we moved over 100 people out of there," Johnson said. "It was a very long weekend, but we were able to do it, and everything went successfully."
Between the SOS Center and another encampment, REAP is currently providing services for about 45 people. The organization takes into account each client's physical and mental needs so that they can achieve their success story. 
"I was actually happy about the whole date set, because it forced agencies to work together to finally realize what these guys needed to be able to adapt," Johnson said. "It also allowed the clients to be ready to make a decision."
Fearless Community Inc. has been working with the homeless encampment since February 2021. Since then, the organization has reunited families, placed individuals into housing, located missing persons who were living in the encampment, and helped those with pets get service animal certifications. 
"We meet them where they're at," Johnson said. "We work with them to get them to where they're healthy, they're stable, and they're able to make the right decisions for themselves again."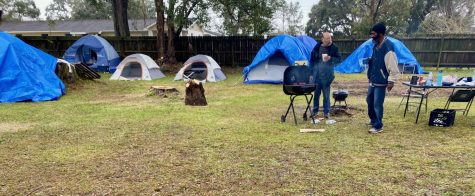 Bright Bridge Ministries, another Pensacola-based organization, is also working to help the homeless community. The faith-based organization is currently working on an emergency shelter that will provide housing to about 30 individuals.
"The emergency shelter that we're going to be opening will be open to any male that would like to stay," said Robin Noble, executive director of Bright Bridge Ministries. "When someone comes here, there are two requirements; they have to be drug and alcohol-free and they have to be willing and able to work. If they would like to work, we will do what we can to help them with that goal."
To help clients in their job hunt, Bright Bridge will provide clothing, transportation, and other resources to those looking for employment. The organization will also assist in setting up job interviews per the client's request. 
After two weeks of living in the emergency shelter, Bright Bridge will perform a review to ensure that the client is actively trying to get a job. From there, the client can stay for either a drug and alcohol transition program or life skill classes. 
"We're trying to respond to the urgent need of Pensacola to get some of our homeless community off the street and into shelters," Noble said. "We are also working for those who are wanting to get back on their feet to give them the opportunity to do so."
A client may also choose to stay with Bright Bridge after becoming employed. They are required to pay a $100 a week program fee and attend a certain number of classes. 
"We believe they have to work as hard as we do in getting to that position," Noble said.
Although renovations are underway, no opening date for the emergency shelter has been set. Bright Bridge Ministries also offers meal services Monday through Friday, a learn to read program, free hygiene supplies, free clothing, free blankets and a transitional men's program. 
Waterfront Rescue Mission has provided homeless services and addiction recovery to those living along the Gulf Coast for over 70 years. Each year, the organization serves over a thousand individuals in need, with hundreds of men seeking refuge with the organization each night. 
"We had staff members on-site regularly at Hollice T. Williams Park, inviting [the homeless] to join the programs that best meet their needs, whether that is the work training, working homeless, veterans program, or the LifeBuilder Addiction Recovery Program," said Angie Ishee, executive vice president at Waterfront Rescue Mission. "Certainly, we also offer an overnight shelter to those who might not yet be ready to commit to a program. While overnight programs and shelter are for men only, our day services, which we promoted in our regular visits to the encampment, are available to men, women, and children."
Day services offered by Waterfront Rescue Mission include lunches, day shelters, showers, restrooms, computer use and access to the onsite medical clinic. The organization established itself as a resource to those in the encampment by sending staff members to regularly take food and water to notify them of services available. 
"Several guests in recent weeks seeking services in our day services, overnight shelter, and programs have indicated they are or were residents of the encampment," said Ishee. "As we do with all guests, we engage the help of community partners to help meet needs if necessary. Our ultimate goal is to help people improve their position in life and get out of homelessness for good."
Additionally, the Alfred-Washburn Center has assisted the homeless who have vacated the I-110 encampment late last month. Although the facility does not provide housing, the organization can help by providing food, laundry services, clothing and identification cards to the homeless. 
"We have continued to provide day center support, so people under the bridge have been able to do laundry, take a shower, have mail delivered, and we'll continue to do so until they no longer need our services," said Michael Kimberl, director of the Alfred-Washburn Center. Kimberl is also the co-founder and director of Sean's Outpost, a 9-acre sanctuary in Satoshi Forest that provides utilities to those experiencing homelessness. 
"As far as Sean's Outpost goes, we are currently conducting interviews with people that are staying under the bridge that might still want a camp and maybe aren't ready for services," Kimberl added. "We're currently accepting applications and hoping to take in a few of the people that are up under the bridge."
Sean's Outpost typically provides services to about 20 people at a time. Currently, there are three vacancies available. 
Other organizations and agencies that have assisted the homeless in the transition away from the I-110 encampment include Opening Doors Northwest Florida, World Wide Visions, OneWay Restoration Ministries and others. 
If you are experiencing homelessness or are looking for a place to go, there is still hope. If you are unsure of which resource best fits your needs, please call the United Way hotline at 211.
"Don't give up, because that's the number one thing if they get turned down by the first agency, they give up," Johnson said. "So don't give up, and keep calling."
The belongings of those who lived in the encampment are being collected and stored by the city. Individuals can claim their belongings until the deadline of March 16.
Resources: 
United Way – 211
ReEntry Alliance Pensacola (REAP) – (850) 332-6677
Fearless Community Inc., Melissa Johnson – (850) 341-0730
Bright Bridge Ministries – (850) 912-8383
Waterfront Rescue Mission – (850) 478-4027
Alfred-Washburn Center – (850) 435-7427
Sean's Outpost, Micheal Kimberl – (850) 287-0792
Opening Doors Northwest Florida – (850) 439-3009
World Wide Visions – (850) 452-7984
OneWay Restoration Ministries – Main/Men's Intake – (251) 217-8675, Women's Intake – (251) 217-8728