Tyler Perry's Madea returns in new Netflix comedy
Hellur! Hellur! 
Everyone's favorite pistol-toting Granny is back in "A Madea Homecoming".
In 2018, the man behind the iconic character, Tyler Perry, announced that 2020's "Madea Farewell Play" would be fans' last time witnessing Madea's heartwarming, yet oddly delivered wisdom. However, fans were ecstatic after word got out that she and the gang would be taking the Cadillac for one more spin. 
Perry recently sat with Entertainment Weekly and discussed the character's resurrection:
"I was looking at the state of the world and how polarized it is… nobody's laughing. Nobody's getting the chance to belly-laugh anymore. And I'm like, what tool do I have in my arsenal that can bring that kind of laughter?" 
"A Madea Homecoming", Perry's tenth in the Madea franchise, follows the character as she prepares for her great-grandson's graduation, which turns out to be a mess of secrets, lies and drama. 
Perry revealed that a portion of this drama will stem from an LGBT storyline, a feat Perry hopes will stimulate conversations on understanding and inclusion.
"Even if you don't understand, be open… I just think that if everything gets accepted in love, then you get a chance to see the person for who they are rather than what you think they are," Perry said.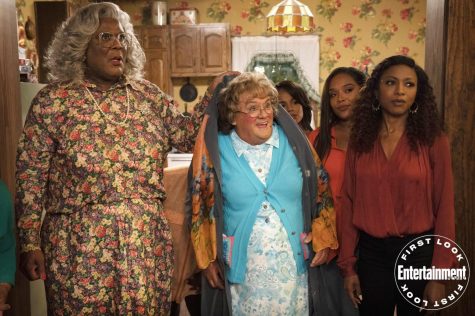 Among those starring in the film Cassi Davis (as Aunt Bam), Tamela Mann (as Cora), and David Mann (as Mr. Brown), all of whom have starred in a number of Perry's productions since the early to mid-2000s. New faces include Gabrielle Dennis (The Upshaws), Brandon Black (Dear White People), and Isha Blaaker (The Flight Attendant). Irish actor Brendan O'Carroll will also appear in the film as his character Mrs. Brown, the leading character in the popular British/Irish sitcom Mrs. Brown's Boys. 
"A Madea Homecoming" is set to make its Netflix debut on Feb. 25.