Bronx apartment fire claims 17 lives; Cardi B to cover burial expenses
Two weeks have passed since the devastating Jan. 9 Bronx apartment fire that left eight children and nine adults dead. Bronx native Cardi B has stepped in to be a source of support for the grieving community.
It was at the Twin Peaks North West housing development that a fire resulted in 17 deaths and left a total of 63 people wounded, with 32 being sent to hospitals with life-threatening conditions. The 50-year-old, 19-story apartment complex served as a hub for a burgeoning Muslim-West African community, with a large number of its members emigrating from the country of Gambia. 
Around 200 members of the New York City Fire Department responded to the scene and were met by heavy smoke fumes and a nearly uncontrollable blaze. In stairways and various other locations within the building, firefighters found numerous victims, with a number of them experiencing an array of symptoms, including cardiac arrest, from smoke inhalation. 
Mayor Eric Adams described the event as a "horrific, horrific, painful moment for the city of New York," predicting a "level of just pain and despair in our city." 
Among the lives claimed are Ousmane Konteh, 2; Haouwa Mahamadou, 5; Fatoumata Dukureh, 5; Mariam Dukureh, 11; Mustapha Dukureh, 12; Haja Dukureh, 37; Omar Jambang, 6; Seydou Toure, 12; Muhammed Drammeh, 12; Nyumaaisha Drammeh, 19; Foutmala Drammeh, 21; Fatoumata Drammeh, 50; Sera Janneh, 27; Isatou Jabbie, 31; Fatoumata Tunkara, 43; Hagi Jawara, 47; and Haji Dukary, 49.
Daniel Nigro, Commissioner for the New York City Fire Department, ruled the cause of the fire as a "malfunctioning electric space heater," which devoured one apartment before spreading smoke, and eventually fire, throughout the rest of the building.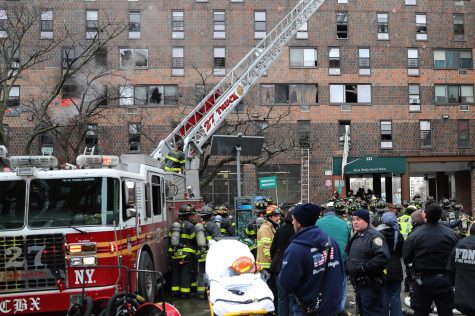 "The smoke spread throughout the building, thus the tremendous loss of life and other people fighting for their lives right now in hospitals all over the Bronx," Nigro said.
A funeral service for 12-year-old Seydou Toure and her five-year-old sister Haouwa Mahamadou was held on Jan. 13 at a Harlem mosque. The bodies of other victims were later prepared at a Queens funeral home, where they were cleansed and wrapped according to Islamic tradition.
Many families have found it difficult to decide whether they should bury their loved ones in their home countries or in the United States.
"There's lots of emotion — lots of emotion — as we go back and forth about where to bury them, here or taking them back home," said Haji Dukuray, uncle of Haja Dukuray, who died alongside her husband and three children.
On Jan. 16, a public funeral was held for 15 of the victims at the Islamic Cultural Center in the Bronx. In attendance was New York Lt. Governor Brian Benjamin, who announced a $2 million fund for the victims and their families. 
"As the Lieutenant Governor of New York State, I stand here on behalf of Governor Kathy Hochul to say, 'we will be with you to be sure that this tragedy never happens again and we will make sure that all of the families — the 15 here, the two who are not here, and all of the families who were impacted by this fire — know that the state will stand up and support,'" Benjamin said.
Through the fund, tenants will be provided with "case management services, personal property replacement, and relocation and rental assistance to help address critical household needs," according to a press release from Governor Hochul's office.
New York Senator Chuck Schumer, also in attendance, announced his and Congressman Ritchie Torres' collaboration to re-open the Gambian Embassy, which has been closed due to the COVID-19 pandemic. Schumer also stated that the victims' family members who reside in Gambia will be allowed to visit New York and be with their families during this tough time.
Grammy Award-winning rapper Cardi B, who happens to be a Bronx native, has also offered financial support to the victims and their families, pledging to pay all funeral costs for those who passed away. 
In a statement to CNN, Cardi B said "I'm extremely proud to be from the Bronx and I have lots of family and friends who live and work there still."
"So, when I heard about the fire and all of the victims, I knew I needed to do something to help," she said. "I cannot begin to imagine the pain and anguish that the families of the victims are experiencing, but I hope that not having to worry about the costs associated with burying their loved ones will help as they move forward and heal. I send my prayers and condolences to everyone affected by this horrific tragedy."
Cardi B, born Belcalis Almanzar, grew up in Highbridge, a predominantly Latino neighborhood in the South Bronx, which is roughly 2.5 miles from the apartment complex in which the fire occurred. The rapper is now collaborating with The Mayor's Fund to Advance New York City in an effort to guarantee that all funds donated will be appropriately allocated to the families of all the victims. 
"We are grateful for Cardi B, a real superstar on and off the mic, for granting some critical financial relief to families of the victims," Mayor Eric Adams said in a statement. 
Since the tragedy occurred, many have raised the question of whether race determines who experiences tragedies like this one. This comes as no surprise, as firefighters fought a fire at the same apartment complex nearly 36 years ago. 
"But what is happening here in the Bronx is what's happening here across our city in communities where Black, brown, and immigrant people are," said Mayor Adams while attending the mass funeral. "It is time to end those inequalities, so we don't have our babies and our families torn apart by tragedy."
Multiple grassroots organizations continue to raise money for those affected by the fire, including the Gambian Youth Organization, a Bronx-based group that has raised over $1 million through an online campaign.