Gab with CAB
Jessica Ethridge is a junior at UWF majoring in hospitality; therefore, it's fitting that she is also the Campus Activity Board (CAB) president. Ethridge works with a family-like team of friends in CAB to provide an inclusive and fun experience for students to make memories. 
"We want to stress that anyone and everyone can come to CAB events for free fun and free food," said Ethridge. 
Due to COVID-19 and social distancing, it was difficult for CAB members to build their team and bond. Now that the university has reopened, the CAB members have grown to be great friends and work together to welcome new ideas and people. 
"We're all very different people, which brings a lot of different ideas into the mix, and we also bring different friend groups and different people into our events, which I think is a really cool component of our team," said Ethridge. 
Ethridge said that other than her team and the people that she gets to interact with as CAB president, her favorite part of each event is getting to experience the finished product. 
"I remember after Club U-Dub, my team would approach me at different times, and they'd be like, 'we did this and I'm so proud,'" said Ethridge. "That is my favorite thing in the world. When you sit there at an event and you're seeing it be successful and you're like, 'I helped and I'm here, and this is really cool.' Just being a junior in college and being a part of that, that's kind of crazy," 
CAB is currently working on reimplementing their popular Cabbie volunteer program, where students can not only attend each event but also gain a desire to volunteer and help organize the events.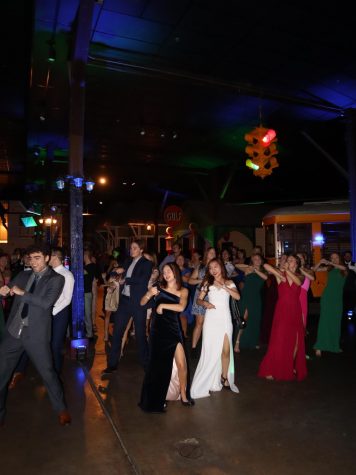 The CAB e-board is available for anyone at any age to apply to be a part of, and they are always looking for new voices. Ethridge advanced from a volunteer to a director on the e-board in her freshman year at UWF. 
"I want the student body to know that we're always hiring people for our e-board to be amazing event planners," said Ethridge. You don't have to be a hospitality major, none of us are but me. Everyone has good ideas." 
CAB is currently building its spring calendar with a plethora of memorable experiences for students. CAB will be hosting "Dates and Skates" in the UWF Conference Center right before Valentine's Day, where they will transform the center into a skating rink. While this event may sound like it is couple-centric, CAB will make it fun for everyone, as always. 
Additionally, CAB will host "Pastries and Portraits" on Dec. 2, which will be their last fall event. CAB will also be bringing back a pre-COVID favorite, "CAB After Dark." CAB will block out a whole parking lot and have a UWF fair, complete with tons of food trucks, laser tag and sometimes even a Ferris wheel. 
"That's a huge event that I really can't wait to bring back to our campus," said Ethridge.
For more information about CAB and its events, click here.