UWF Theatre in Love
November 10, 2021
On Nov. 6, The UWF Theatre Department performed Marc Norman, Tom Stoppard and Lee Hall's "Shakespeare in Love," a comedic telling of William Shakespeare's journey out of writer's block—with the help of Viola, his muse—and to the creation of his famous tragedy, "Romeo and Juliet." 
Viola is the daughter of a nobleman and dreams of acting on the stage, but allowing women to act is against the Queen's law. She auditions for Shakespeare's play, "Romeo and Ethel: A Pirate's Daughter" disguised as Thomas Kent, a man who lives in the De Lesseps' home and wins the lead role of Romeo. 
Shakespeare is immediately entranced by Kent's acting and personally brings the offer for the role to the De Lesseps' residence. Here, he meets the original alter ego, Viola. Shakespeare becomes captivated by Viola's beauty and brains, and they quickly fall in love with each other. 
Shakespeare has found his muse, and his work begins to reflect his relationship. "Romeo and Ethel" begins to transcend into "Romeo and Juliet;" meanwhile, Shakespeare and Viola's love directly mirrors the renowned play.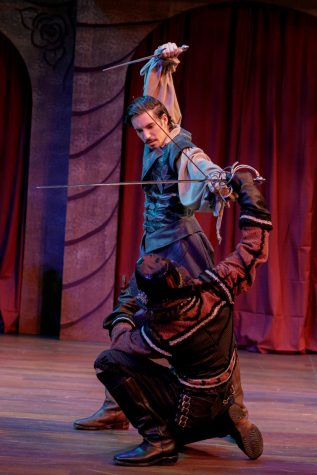 UWF's Theatre Department placed a spotlight on multiple strong actors. Jacob Gonzalez, who played Shakespeare, and Olivia Wolford, who played Viola, brilliantly epitomized the hearts of their characters. 
Wolford described her experience onstage for "Shakespeare in Love:" 
"This show has been an absolute dream to be a part of," she said. "Viola has taught me so many important lessons, one of which is to always follow your dreams. I have loved exploring who she is and what she longs for most. The cast and crew were a joy to work with, and I couldn't have asked for a better experience." 
Kayla Mangold, a senior at UWF who is dual majoring in Design and Technology with an emphasis on stage management and arts administration, was the stage manager for "Shakespeare in Love" and made sure everything behind the scenes ran smoothly. Mangold said she loved watching the show come together. 
"Stage managers are brought in very early on in the process," she said. "For this show, I was brought on before we even had a cast list. By the time the show opens, it feels like it is my baby, and I have watched it grow and can then introduce it to an audience." 
Just as any show does, "Shakespeare in Love" had many ups and downs, Mangold explained. Coming back to the theatre for performances amid COVID-19 lent to the cast and crew's struggles, but in the end, the audience has offered incredible feedback and the UWF Theatre Department has had a great time telling this story. 
In the spring, UWF's Theatre Department will put on "The Lion, the Witch, and the Wardrobe" as well as "9 to 5 the Musical." Mangold said both shows are going to be amazing design-wise. 
The department does its best to offer shows for everyone to enjoy. UWF students get into performances for free with their Nautilus ID card. For more ticket information, visit the Center for Fine & Performing Arts website. 
"We also have recently started a social media team, which is doing a great job on Instagram," said Mangold. "It's a great way to stay not only up to date on upcoming events, but it also shows the day-to-day of what our classes are like, what we do in our free time, and other fun things that happen in this building!" Instagram: @uwftheatre.