'Make America First Again': A highlight of UWF Professor Jacob Shively's book
Dr. Jacob Shively is an international relations professor here at UWF. He is also a political scientist and has been teaching at UWF since 2013. He teaches courses for our International Studies and Political Science majors and his areas of expertise are in U.S. foreign policy and security strategies.
Shively has published two books so far that both analyze grand strategies. "Make America First Again" analyzes Donald Trump's first two years in office. Shively said he is trying to build a career-long study of U.S. grand strategy. His dissertation included a study of the George W. Bush administration, later following this up with his first book "Analyzing Obama's Grand Strategy."
Shively said Trump was the logical next step for his grand strategy analysis. He also said that if he can hang on, he will be able to write "a very comprehensive, mid-century review of the topic." 
The inspiration for the book came from Shively's life as both a citizen and scholar. He said that objectively analyzing Trump's administration had proven difficult for those on both sides of the aisle. He also said that he wanted to understand what was going on to take that understanding and share it with others as objectively as he could.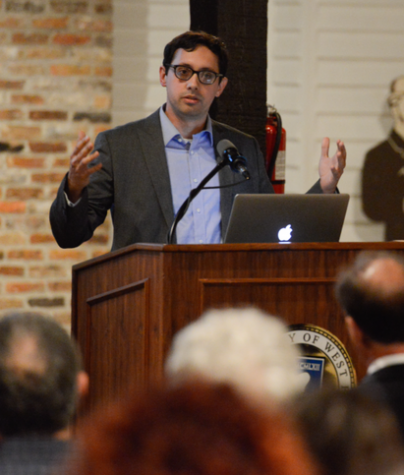 Shively hopes the book will "offer a useful overview or early history of Trump's grand strategy." The book will serve as a useful source for students and professionals alike in the future. He stated that throughout the writing process, he thought about future students and how he wanted the book to be accessible and honest.
"It takes up the question of whether and to what degree individual leaders might be the key to grand strategy change, " Shively said. "It makes the case, for instance, that Trump was a potentially transformative figure, but there are a lot of constraints on any president trying to make those kinds of major changes."
The book uses Grand Strategy Analysis (GSA) to evaluate Trump's administration. Shively said this about GSA:
"GSA is a riff on a more established approach: foreign policy analysis (FPA). FPA is really a cluster of approaches, but the basic idea is that we should focus on individuals and groups as the key "units of analysis" in foreign policy and international relations. This also allows me to draw on materials and insights from different disciplines, and it is well-suited for comparing consistently across governments. Plus, GSA allows me to observe how big phenomena in the international system might be constraining or driving individual leaders' decisions and policies. In my view, grand strategy research tends to be inconsistent or too abstract. It also often focuses more on pitching proposals for "good" grand strategy rather than doing the foundational work of understanding how grand strategies work separate from how we want them to work. By systematically observing foreign policy decisions, rhetoric, and official positions, GSA is designed to get as close as possible to how grand strategies are formulated and implemented."
Looking at things from all perspectives, Shively said that he tried to make his book as unbiased as possible. He added that applying theories and frameworks (such as GSA) helps scholars to set aside any personal beliefs or passions. 
The three perspectives that Shively uses are as follows:
The most favorable interpretation for those involved

What their critics would likely say

An "Occam's razor" approach in which the simplest explanation, no matter how boring, may be most likely.
Shively expressed that he hopes people will see the limits on change to U.S. foreign policy after finishing his book. He added that though leaders do matter, they face many existing constraints, and it is important to be aware of those constraints.
"As time marches on, we reinterpret the past to serve the present, so I hope the book serves as a window into the era as it unfolded," Shively said. "I also hope people leave with a stronger vocabulary for Trump's approach to politics."
As for future projects, Shively said he and a number of graduate students in their department are currently working on an analysis/evaluation of President Biden's administration. He said he is also working on a comparative project that will look at different governments around the world. Additionally, Shively has put in an application to study security and cybersecurity strategies at NATO and its member states. 
Shively commented that though his new book does not examine Trump and the cybersecurity side of his time in office, he did publish an article this summer that evaluates Trump and his relation to emerging tech.
We look forward to reading any new publications authored by Dr. Shively. His current publications, including "Make America First Again,"' are available at the John C. Pace library on UWF's main campus. If you decide to pick it up, be sure to let us know how you like it!