Know your part in ending domestic violence
According to the National Coalition Against Domestic Violence (NCADV), nearly 20 people per minute are physically abused by an intimate partner in the United States. Over the course of one year, this equates to more than 10 million women and men.
Social media and news outlets have been flooded with updates and opinions on Gabby Petito, a 22-year-old woman who was reported missing by her family while on a road trip with her fiance, Brian Laundrie. Laundrie, who returned to his parents' home in Florida alone in Petito's van, refused to speak with police. He has not been seen since Sep 14. 
Posts from the couples' social media accounts are being dissected and analyzed by thousands of people following the case online. Many speculations are being made about the couple's relationship as well as Petito's mental health, however, it's important to remember that they only share fractions of their lives online, and there is still much investigation to be done.
With speculations aside and respect paid, there's a lot to learn from this tragic story. The loss of Gabby Petito is deeply saddening and has touched thousands all over the world. The tragedy has also sparked conversation about domestic violence and how important it is to know the signs.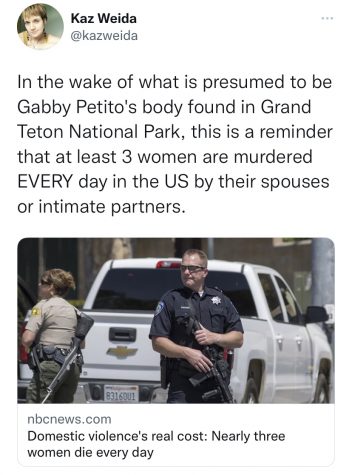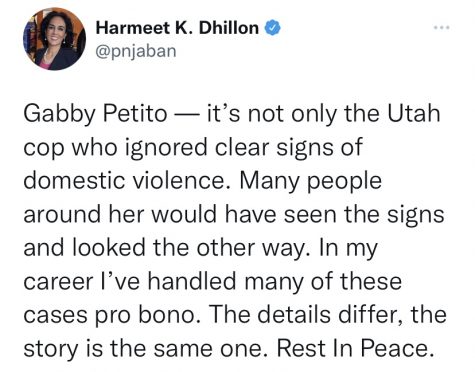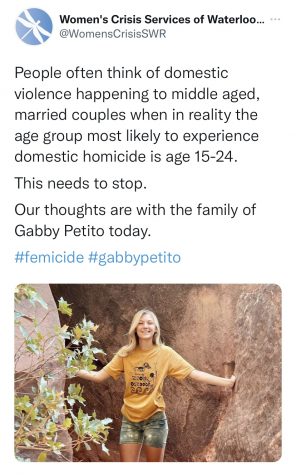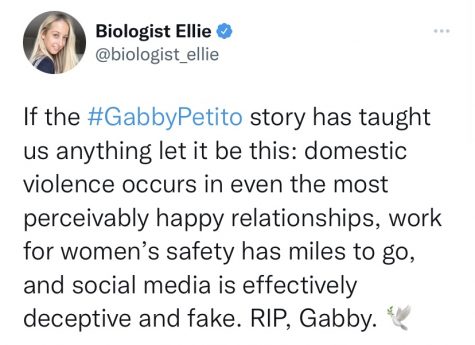 The National Domestic Violence Hotline (NDVH) reports that "on average, more than one in three women and one in four men in the US will experience rape, physical violence, and/or stalking by an intimate partner." When we look at the numbers of abuse in college-aged women such as Gabby, the numbers are even more concerning. 43 percent of dating college women report experiencing violent and abusive behaviors, and nearly one-third have been in an abusive relationship. 
Additionally, one in five women in college are verbally abused, and one in six women in college are sexually abused. As family members, friends, police officers or unknown bystanders, it's crucial to recognize the signs of domestic violence and how to properly help. 
The NCADV says that red flags and warning signs of an abuser include but are not limited to:
Extreme jealousy

Possessiveness

Unpredictability

A bad temper

Cruelty to animals

Verbal abuse

Extremely controlling behavior

Antiquated beliefs about roles of women and men in relationships

Forced sex or disregard of their partner's unwillingness to have sex

Sabotage of birth control methods or refusal to honor agreed-upon methods

Blaming the victim for anything bad that happens

Sabotage or obstruction of the victim's ability to work or attend school

Controls all the finances

Abuse of other family members, children or pets

Accusations of the victim flirting with others or having an affair

Control of what the victim wears and how they act

Demeaning the victim either privately or publicly

Embarrassment or humiliation of the victim in front of others

Harassment of the victim at work
Sadly, the violence doesn't usually end when the victim seeks help. According to thehotline.org, one in four women reported that they would not call the police in the future. Additionally, more than half said it would've made the situation worse.
When two-thirds of all women are afraid that the police will not believe them or intervene, it prompts you to wonder what else these victims should do. If law enforcement families experience domestic violence at rates as high as 40 percent, what can we do besides reporting these disputes to the police?
The NDVH explains that survivors usually need emotional support and/or material support. Emotional support includes: 
Acknowledging that their situation is difficult, scary and brave of them to regain control from

Not judging their decisions and refusing to criticize or guilt them over a choice they make

Remembering that you cannot "rescue them," and that decisions about their lives are up to them to make

Not speaking poorly of the abusive partner

Helping them create a safety plan

Continuing to be supportive of them if they do end the relationship and are understandably lonely, upset or return to their abusive partner.

Offering to go with them to any service provider or legal setting for moral support
 More immediate help can be given through material support including:
Helping them identify a support network to assist with physical needs like housing, food, healthcare and mobility as applicable

Helping them store important documents or a "to-go bag" in case of an emergency situation

Encouraging them to participate in activities outside of their relationship with friends and family, and be there to support them in such a capacity

Encouraging them to talk to people who can provide further help and guidance

If they permit you, helping document instances of domestic violence in their life, including pictures of injuries, exact transcripts of interactions and notes on a calendar of dates that incidents of abuse occur

Avoiding posting information about them on social media that could be used to identify them or where they spend time

Helping them learn about their formal legal rights through resources like Women's Law, which provides information on domestic violence laws and procedures

With their permission, ensuring that others in the buildings where the survivor lives and works are aware of the situation, including what to do (and what not to do) during a moment of crisis or confrontation with an abusive partner
It's important to remember that domestic violence doesn't always look like you imagine it, and not every victim needs the same kind of support. Knowing the signs and offering help when a victim needs it could save their life. 
For more information, go to https://www.thehotline.org/, https://ncadv.org/, or your local organization. 
If you are in immediate danger, call 911.
For anonymous and confidential help 24/7, please call the National Domestic Violence Hotline at 1-800-799-7233 (SAFE) or 1-800-787-3224 (TTY). You can also text "START" to 88788.