Gaetz Finds Himself Center of Controversy and Under Investigation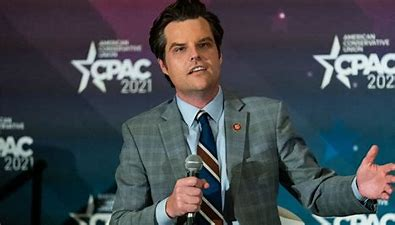 Northwest Florida's Representative Matt Gaetz has been embroiled in a scandal ever since the New York Times broke a story about a Department of Justice investigation into an alleged relationship he had with a 17-year-old girl in 2019. Possible violations of federal sex trafficking laws are also being investigated.
Gaetz may have allegedly broken federal sex trafficking laws by paying the 17-year-old to travel with him across state lines. It should be noted, Matt Gaetz is 38 years old as of this article's publication.
The DOJ investigation began under Attorney General William Barr in 2020. 
The investigation is part of a larger investigation into the actions of other people connected to Gaetz, namely Joel Greenberg. Greenberg, a former Seminole County, Florida tax collector, has been indicted on numerous charges from child sex trafficking to stalking to "aggravated identity theft." Those indictments were filed in August of 2020 in the U.S. District Court of the Middle District of Florida.
According to partial Venmo documents obtained by Daily Beast, Gaetz paid Greenberg approximately $900 and allegedly sent him a text telling Greenberg to "hit up" some young women. Greenberg then paid three young women.
Greenberg is expected to take a plea deal, which could open the door to Greenberg becoming a witness against Gaetz.
"I'm sure Matt Gaetz is not feeling very comfortable today," Fritz Scheller, Greenberg's attorney, told the media Thursday afternoon.
Matt Gaetz denies any wrongdoing and has hired two lawyers to deal with the legal troubles he now finds himself in. One of the lawyers is closely tied to Donald Trump, having worked for Rudy Giuliani's law firm.
Gaetz's office released a statement that said that the congressman "has never paid for sex."
His office, purportedly the women of his office, also released a statement in support of Gaetz, calling him a "principled and morally grounded leader."
Despite the support that Gaetz has received from some in his office, others have abandoned ship.
Luke Ball, Gaetz's communication director, quit on the same day that Devin Murphy, Gaetz's legislative director, left. Both had been with Gaetz since 2017, his first year in Congress.
Murphy reportedly said that he split with Gaetz because he wanted to draft legislation, "not [be] working at TMZ."
Another angle of this case came from a series of tweets from Matt Gaetz on March 30 that stated that he and his family were being extorted by a former DOJ official.
The claim, according to Salon.com, is that Gaetz's father, former Florida politician Don Gaetz, was approached about allegedly nonexistent photos of Matt Gaetz engaged in sexual activities with underaged prostitutes, and essentially told to pay $25 million to make them go away. 
Bob Kent, one of the people named by Gaetz, denies extorting Don Gaetz and says that his conversation with him was concerning Robert Levinson.
You may be asking, who is Robert Levinson?
Levinson was a former FBI agent who went missing in Iran in 2007 while working for the CIA. 
The idea was to have the Gaetz family try and help with retrieving Levinson through funding a rescue attempt. It should be noted that Levinson is presumed dead as of 2020. 
Even if the alleged extortion plot proves true, Gaetz would not be in the clear with all the allegations against him.
On Friday, the House Committee on Ethics opened an investigation of Gaetz. 
On top of Gaetz's aforementioned problems, he is also being accused of having shown photos of naked women to colleagues on the house floor. 
Several members of Congress want some form of action taken on the issue of Gaetz's scandal. With some like Ted Lieu (D-California) asking for him to be taken off the judiciary committee. 
One GOP congressman, Adam Kinzinger (R-Illinois), has even called for his resignation. 
News concerning Gaetz's conduct does not seem to be slowing down anytime soon as his relationships with others, including Jason Pirozzolo, a marijuana entrepreneur and hand surgeon, come under greater scrutiny. 
Pirozzolo allegedly paid for expenses and escorts on a trip to the Bahamas that Gaetz was present for.
All the allegations against Gaetz are part of ongoing investigations and he has yet to be formally charged in any of these incidents.