The history of UWF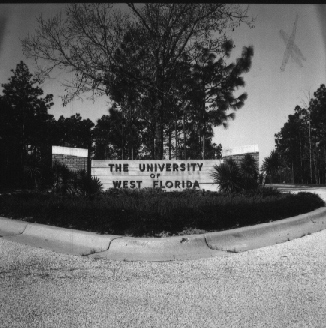 Since the University of West Florida's founding, it has strived to bring higher education to Northwest Floridians and beyond. As the years go by, UWF students are becoming more and more prepared to tackle the future's biggest obstacles. It all started with a vision. 
In the early 1960s, there was a growing need for higher education in the Florida Panhandle. More and more jobs required degrees and specialized training, and there was no university in Northwest Florida at that time. With that, the Florida Legislature allocated funding to develop UWF in May of 1963, making it the sixth institution of higher learning in the State University System of Florida.
By July of 1964, the newly proposed university had appointed its first president, Dr. Harold Crosby. Crosby, who was president of UWF for nearly ten years, oversaw the university's initial construction. In 1965, UWF had its groundbreaking on 13 parcels of land that cost about $1.2 million.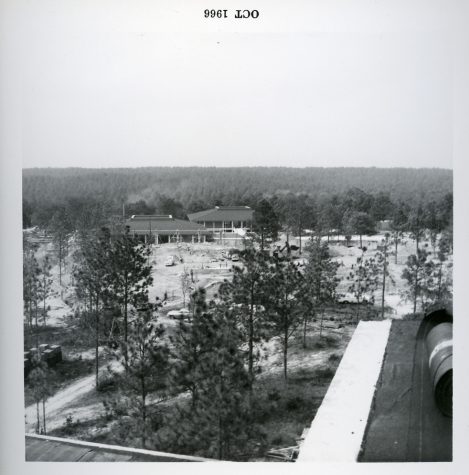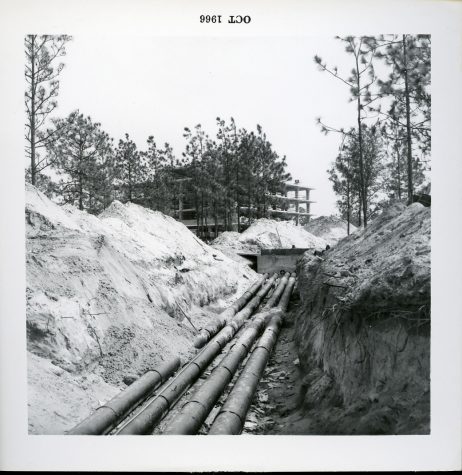 Two years later, UWF was open for business. When UWF opened its doors, the campus had 25 buildings, with 15 of those buildings being student dormitories. Today, UWF's main campus has over 60 buildings.  
"It was small, and a big difference back then is that it was still heavily wooded around the center of campus," former professor and UWF President Judith Bense said. "You often couldn't see one building from another, and there wasn't much development between the university and Interstate 10."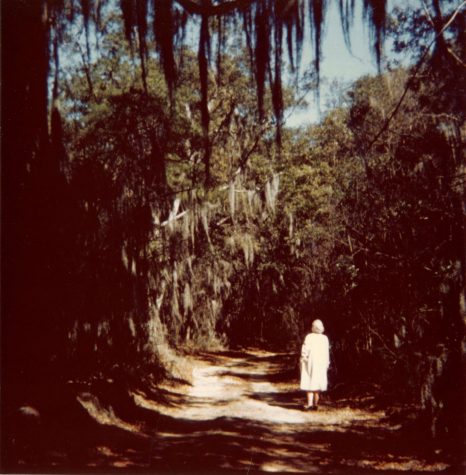 In September of 1967, the university began enrolling students. During this time, UWF was an upper-division school, only allowing juniors and seniors to enroll. Lyman Bryon Harris was the first student to apply to UWF, and soon roughly 1,300 other students had enrolled. 
By November, the student body had chosen the Argonaut as its mascot. The Argonauts, which can be traced to Greek mythology, represent the ship crew of Argo who sought to capture the golden fleece under the leadership of Jason. Other contenders for UWF's mascot included the Marlins, the Mariners and the Sea Hawks.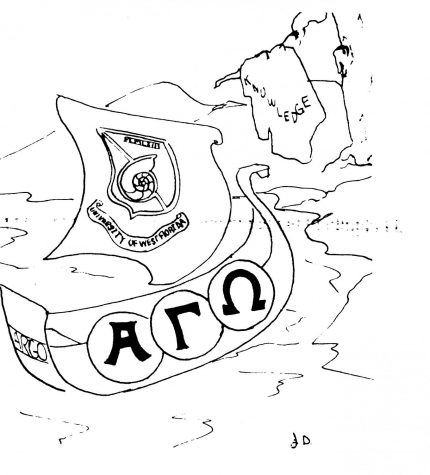 In December, UWF participated in its first athletics event. The university's men's basketball team defeated Valdosta State University in a 76-75 win. Three men's athletic teams, including basketball, golf and tennis were also introduced to UWF that school year.
The university's student-run newspaper, The Voyager, was also founded in the early days of UWF. Established in 1968, The Voyager continues to be a beacon of independent journalism to UWF students and beyond.
"Back then we had to type the copy and take it down to the typesetting where we had the paper printed," former Voyager editor and class of 1970 graduate Constance Marse said. "We would lay out the paper by hand and have it pasted up in order to be printed."
In June of 1968, students celebrated the university's first commencement ceremony. Graduates received degrees ranging from English to Biology. This commencement was the university's smallest, with only 58 students receiving degrees. 
"The class of 1969 and 1970 was the first class with any number of students," longtime UWF professor Allen Josephs said. "It was a brand-new school and a new concept to the university."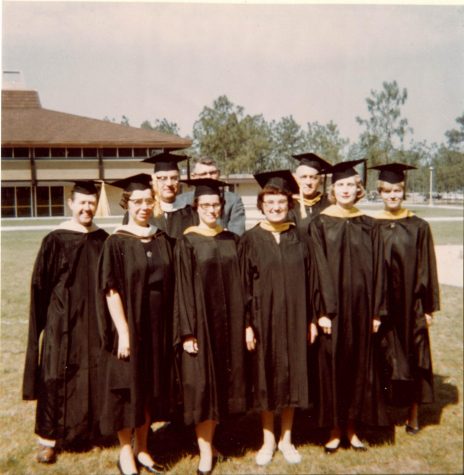 By 1969, the UWF Board of Trustees approved the university's first master's program. Such areas of study included elementary education, English and history. Today, UWF offers more than 60 master's programs and specializations.
"When I came here in 1969, a university degree was not something that was necessary, but rather something to be achieved," Josephs said. "Getting a university degree today is much closer to getting a high school diploma fifty years ago."
Throughout the United States, the late 1960s and early 1970s were turbulent times met with opposition and protest. Although large, oftentimes violent protests against the Vietnam War were becoming common on college campuses, UWF held small, peaceful protests.
"It was a pretty active campus," Marse said. "We had some campus protests and a free speech area. We had to cover these things for The Voyager, of course. It was turbulent times."
According to Marse's book "Rising Fiery Constellation," UWF students also produced and distributed a short-lived underground newspaper known as Fish Cheer. The paper, which was never an official university newspaper, often condemned the Vietnam War with offensive language. In 1975, recent UWF graduate William Craig Nystul was one of the last casualties of the Vietnam War. 
Jerry Rubin, a prominent anti-war activist during the counterculture, made an appearance as a guest speaker at UWF in 1971. Rubin, who was charged with inciting riots at the 1968 Democratic National Convention, spoke to a crowd of about 800 students and local residents. Many anti-war speeches given by Rubin were known to turn violent, but UWF students were able to keep the peace. 
In addition to constant social conflict, this era was known for its unique and interesting fashion. UWF students in the 1960s and 1970s were a part of this fashion. 
"The hairdos the women had looked funny, and the clothes people wore looked funny," longtime UWF professor Patricia Wentz said. "They looked good at the time, but fashion has changed. Students were very fashionable back then."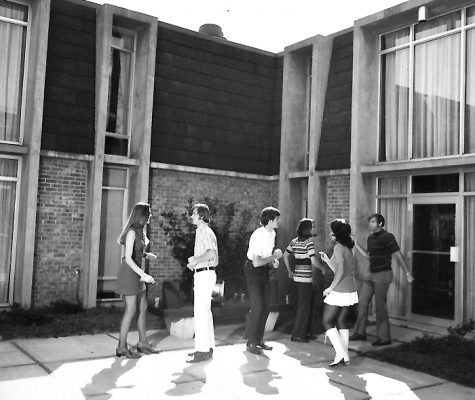 If you're a student at UWF, you've probably visited the Cannon Green. In June of 1970, the cannon that is now on display here was found by UWF student Robert Annin at the mouth of the Pensacola Pass. The cannon, which is believed to be from 18th-century Britain, was part of a battery that guarded the entrance to Pensacola Bay.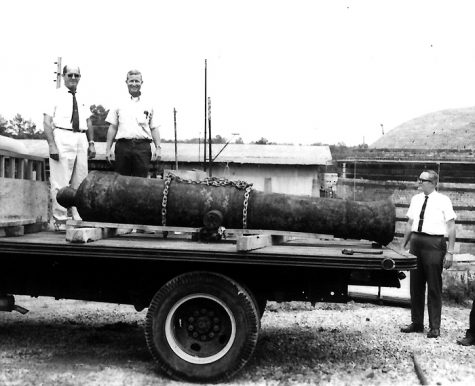 In 1972, Greek life made its appearance at the university. In February, the Alpha Delta Pi Sorority was introduced as the first Greek-letter organization at UWF. The following year, the Sigma Alpha Epsilon Fraternity was introduced as the first Interfraternity Council organization at UWF. 
Although rare, UWF has seen its share of weather anomalies. In February of 1973, the first measurable amount of snowfall hit the university, bringing about two inches of snow. Enough snow fell to cover the ground, allowing students to build snowmen. The campus has not experienced such a snowstorm since.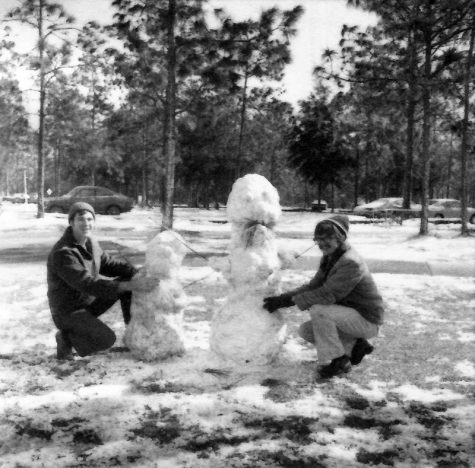 Before long, the university had appointed its second president, Dr. James Robinson. Assuming his presidency in December of 1974, Robinson oversaw the establishment of the campus art gallery, Edward Ball Nature Trail and WUWF-FM. Robinson held his position as president for nearly 14 years.
During Robinson's presidency, many Florida universities saw cuts in funding. In 1976, UWF's athletic teams were suspended. By the early 1980s, the university saw a return in varsity sports.
"Today, more people have started going to UWF sporting events," longtime UWF administrator Gabi Grosse said. "There are also beautification projects going on around campus like the UWF Community Garden and the Camelia Garden that did not exist when I started here."
With the return of sports came a period of substantial growth. In 1981, WUWF-FM Public Radio, based on UWF's campus, began broadcasting. The station continues to bring journalism and cultural expression to Northwest Florida and Southwest Alabama today.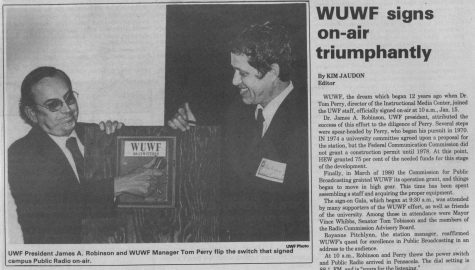 Since its first commencement in 1968, UWF has awarded numerous honorary degrees. One of the most notable occurred in 1982 when Jeane Kirkpatrick, a United Nations ambassador, received an Honorary Doctor of Laws from the university. Kirkpatrick, who played a major role in the foreign policy of President Ronald Reagan's administration, was known for being a staunch anti-communist.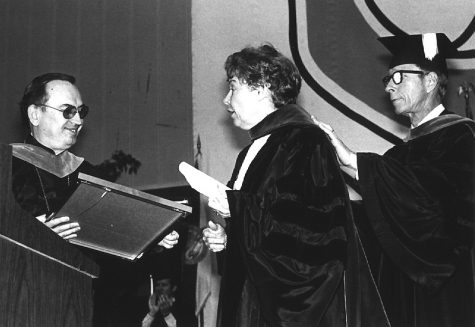 UWF has also hosted many influential guest speakers since becoming a university. In addition to anti-war activist Jerry Rubin, UWF has hosted feminist writer Florynce Kennedy, activist and daughter of Martin Luther King Jr. Yolanda King, and former Vice President Hubert Humphrey. The university has also hosted multiple Florida governors and senators. 
During the 1970s and 1980s, UWF hosted numerous musical artists, many of which are world-renowned. Among those who performed on campus include Hank Williams Jr., B.B. King, Bob Dylan and Fleetwood Mac. Jimmy Buffet and Kenny Rogers also performed at UWF before achieving fame.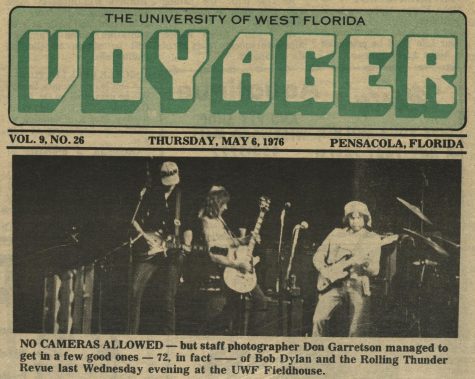 In 1983, UWF established lower-division courses, allowing freshmen to enroll for the first time. During this time, UWF was still a relatively small university.
"When I started, UWF was out in the woods, and most people in town didn't really bother to go out there," Wentz said. "Not many people in Pensacola knew about UWF, and very few people outside of Pensacola and Florida knew about our university."
Many former and longtime UWF employees noted the tremendous changes they have seen at the university over the years. The university was, and still is in many respects, a place where everyone knew your name.
"It had a very small university feel," retired UWF employee Judy DeBolt said. "The cafeteria was an open place that you could go to at any time of the day. It was a place where faculty would congregate and get to know each other."
Before the UWF cafeteria was a pay-up-front buffet, it was a place where students and faculty could buy a snack and hang out. Many students would use this space to study.
In 1988, Dr. Morris Marx was appointed president of UWF. During his 14-year presidency, Marx oversaw significant university expansion. This included the construction of the College of Education Complex, residence halls, on-campus apartments and numerous other additions. 
"When I first came to campus in 1990, I remember that it felt like you were coming into a national park," longtime UWF professor Daniel Miller said. "The signage was wooded, and it was made on campus by someone. We still have a beautiful campus, but that particular mood has disappeared."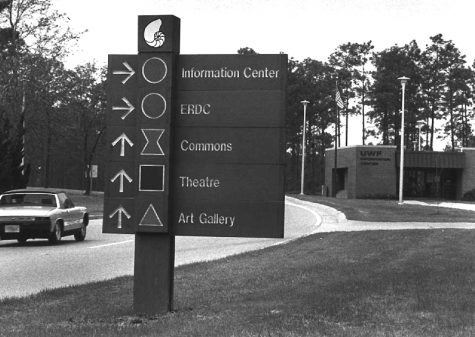 For years, UWF and much of Northwest Florida lacked a cultural hub for artists. In October of 1991, President Marx dedicated the newly opened Center for Fine & Performing Arts as the heart of artistic expression at UWF. Marx envisioned the facility to be a primary destination for arts and culture in Northwest Florida.
Although UWF has had an abundance of triumphs and successes, the university has also endured horrendous tragedies. Susan Morris, a video production student and founding member of the Alpha Gamma Delta Sorority, was brutally abducted, raped and murdered while walking to her car after an evening class on Jan. 11, 1993. Since then, the university has heightened safety measures on campus, which include adding improved outdoor lighting and emergency blue light boxes. The Susan Leigh Morris memorial bench was also added to campus in her honor.
Over 25 years after athletics made its appearance at UWF, the university received its first national championship title in sports. In May of 1993, the UWF softball team won the NAIA softball national championship. Since then, athletic teams at UWF have won ten national championship titles. 
The new millennium brought big changes and historic wins to UWF. In 2002, Dr. John Cavanaugh became president of the university, serving for six years. Among other things, Cavanaugh is responsible for bringing a four-year nursing program to the university. 
During Cavanaugh's presidency, UWF was hit by two catastrophic hurricanes. Hurricane Ivan, which made landfall near Pensacola in September of 2004, caused minimal damage to the university. Less than a year later, Hurricane Dennis made landfall near Pensacola, also causing minimal damage to UWF. Today, UWF is a national model for disaster planning and preparedness.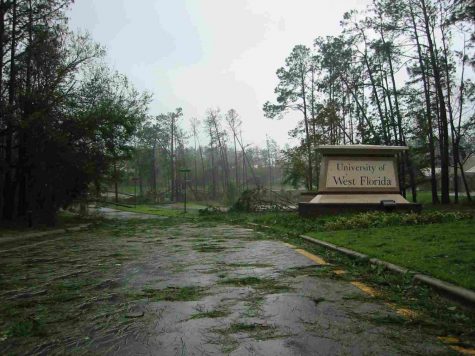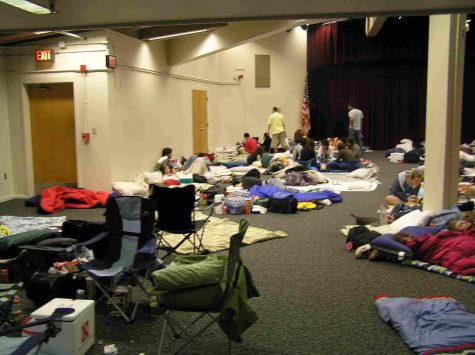 Those same years, UWF's men's tennis team won its first and second NCAA Division II national championship. Men's tennis would go on to do this again in 2014 and 2017.
In July of 2008, Dr. Judith Bense assumed the office of UWF president, serving for eight years. During her time as president, Bense focused on growth and visibility to improve student experience. She is also credited for increasing enrollment and strengthening academic programs, as well as bringing football to UWF. 
"One of the reasons I became president as kind of a service to the university was because there were certain things I thought UWF needed," Bense said. "It needed to grow, and it needed visibility. UWF was the best-kept secret of the state universities in the whole state, and that is not a good thing." 
With Bense's guidance, the following years brought extensive growth to UWF. In February of 2010, the university opened a new science and engineering facility. In March of that same year, the Delta Phi Lambda Sorority was introduced as the first Multicultural Greek Council organization at the university. In August, Heritage Hall opened for students, with nearby Presidents Hall opening in 2012. 
The University of West Florida has always kept up with the growing needs of the job market. According to the Bureau of Labor Statistics, the need for cybersecurity jobs is expected to grow 31% between 2019 and 2029. In response to this demand, the UWF Innovation Institute launched the Center for Cybersecurity, providing research and cybersecurity opportunities for students. 
In 2015, archeologists from UWF identified the archaeological site of the Luna settlement, the oldest multi-year European settlement ever identified in the United States. Shards of broken ceramics from the 16th century were found undisturbed beneath the ground in a residential area of Pensacola. The artifacts have been linked to the 1559 Spanish colonization expedition of the Gulf Coast, making this settlement older than Jamestown.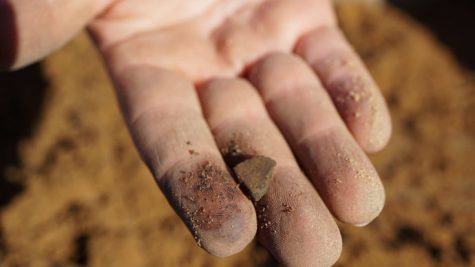 That same year, UWF became one of 47 universities in the United States to earn the Community Engagement ranking from the Carnegie Foundation. As the university grew, it extended its reach beyond the campus and into the local community. Later that year, the Military Order of the Purple Heart named UWF a Purple Heart University, signifying that it strives to help veterans make the most of their campus experience. 
Up until 2016, UWF had no football team. By September of that year, the team kicked off its inaugural season, beating Ave Maria University in a 45-0 win. Since then, the football team has won two NCAA Division II regional championship titles, as well as the NCAA Division II national championship title in 2019. 
"I think football engages our alumni and the community," Bense said. "Playing downtown has really raised the University of West Florida's profile and has engaged alumni as well as the community. Also, we are the national champions of Division II, and you can't beat that."
In January of 2017, Dr. Martha Saunders assumed the office of UWF president with a vision to grow the university beyond regional status. During her presidency, Saunders hopes to create programs that will attract faculty and research funding. Saunders still holds the office of UWF president today.
By 2017, UWF was also receiving statewide notability. In 2017 and 2018, UWF ranked in the top three public universities for the Florida Board of Governors performance-based funding model. In 2019, UWF ranked in the top two public universities for that same category. Results for 2021 have not been disclosed yet.
The development of UWF over the years has been bittersweet to many longtime and former university employees. Although the advancements that came with development benefits students and the community, many miss the old days of UWF. 
"The biggest thing that I noticed about UWF is that it lost its small, family-like feeling as it started to grow," DeBolt said. "A lot of the faculty social events were disbanded, and they remodeled the cafeteria to make it what it is today. I miss that feeling of family."
Since UWF's first commencement in 1968, the university has awarded over 100,000 degrees. On Dec. 15, 2018, the university awarded its 100,000th degree, setting a major milestone for UWF. As we go into the future, UWF will continue to deliver excellence and opportunities to its students and the community. 
"UWF started out as an experiment," Wentz said. "The history of UWF is very interesting, and UWF has always had faculty that are hardworking and daring. I think we've been blessed with fantastic leadership, because had we not, we would not be where we are today."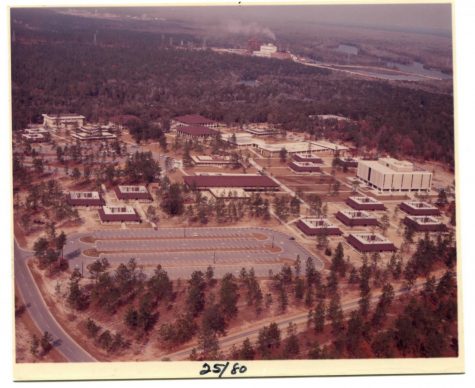 All images in this article are credited to the UWF University Archives and West Florida History Center.